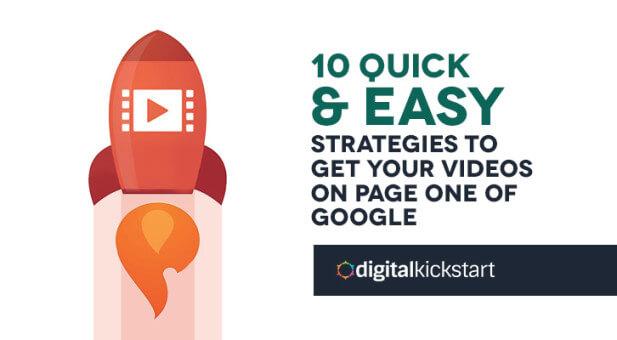 The word is out. Video is the hottest thing in internet marketing since… well… the internet.
It's no longer a secret, and more and more smart marketers are turning to video to help them build their dynasties.
The bottom line: If you're not using video marketing, you're missing the boat.
If you think that's an exaggeration, consider these statistics…
Now, if you weren't already gung-ho about video marketing, that should have you salivating just a bit. Or a lot.
But not so fast!
You need to be found on Google to cash in on this huge upswing in video. Preferably on page one.
Just making videos isn't going to put you on top. You have to have a systematic, proven method of consistently ranking well in Google so people find your videos and follow them back to your site or your offer.
But how do you make sure your video gets found on Google when 300 hours of new videos are being uploaded to YouTube every single minute?
It seems like an impossible task to stand out among all that competition.
The Impossible Dream?
So, really… is it even possible for an average Joe (or Jill) like you to get your videos ranked high in Google? Even on page one?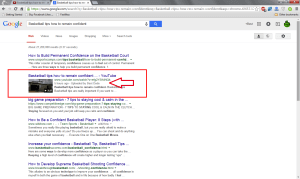 You bet it is. In fact, it's a lot easier than you might think. And all mind-blowing statistics aside, many argue it's easier to rank high with video than it is with written content.
I can hear you from here… which is weird. You're thinking, "If it's easier to rank than written content, then why isn't everyone doing it?" That's a fair question.
And the answer is that not everyone has a step-by-step systematic process in place to pull off high Google ranks on a consistent basis.
But for you, that's about to change.
10 Strategies to Get Your YouTube Videos on Page One
1:  Know Thy Audience
You have to start at the beginning. And step one… before you record even one second of video… is to understand exactly who you're marketing to.
You need to understand their hopes, dreams, fears, and problems on a detailed level. If you don't have that down cold, all the SEO in the world isn't going to make people connect with your video.
2: The Keywords Are… Key
This is really the foundation of your rank strategy. Everything else after this point hinges on selecting the right keywords.
After you thoroughly understand your audience, the problems they're trying to solve, and the questions they want answered, you have to do some thinking about which words they're using to find answers to those problems when the use Google.
Once you've come up with a list of keywords and phrases your audience is likely Googling to find answers, you'll want to do some keyword research to determine how popular and competitive those keywords are.
Ideally, you want to find keywords that are popular (searched for often), but have relatively low competition.
There are tons of keyword research tools out there ranging from free to full-featured, and each will give you various levels of information. If you're already a keyword research pro, go nuts – but if you're not, don't let this process bog you down.
You don't need to know every bit of data available. Use whichever tool you're comfortable with and pay attention to the information you find. Choosing keywords based on some information is far better than guessing.
3: Solve the Right Problem
Now that you understand what your audience is looking for, have an idea of which words they use to search for answers, and have carefully selected killer keywords based on those factors, there's one hugely important step you need to take next…
Make a great video.
And by great I don't mean that it needs to be made with expensive equipment in a studio and packed with cool CGI effects. What I mean by great is that it answers the problem or the question your audience has better than other videos on that subject.
Search your keyword phrases in YouTube and watch a few of the top ranking videos. Ask yourself, "If I needed to answer this question, what else would I want to know?" Then improve on them.
4: What's in a File Name?
You've chosen your keywords – and your awesome video is all ready to go. Now it's time to start employing the strategies that will help boost you to the top of the Google rankings.
Before you upload your video to YouTube, choose your best keyword and rename your video file with that keyword. In other words, if your keyword phrase is "rank your videos in Google" then name your file rank-your-videos-in-google.mov. Your extension will vary depending on which format you've saved your video in – but the important part is naming the file the same as your primary keyword phrase.
This is a crucial step that most people skip right over. Google will pay attention to and give you credit for the file name – so make sure you name it after your best keyword.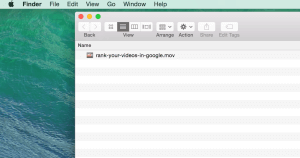 5: The Title Matters
When you enter the title on YouTube, make sure your primary keyword is part of the title – preferably at the beginning. Google will index the title like any other text, and give you credit for having relevant keywords there. So for our example keyword of "rank your videos in Google", you might choose the title, Rank Your Videos in Google – 5 Steps to Getting on Page 1… or something similar. Keep an eye on the length of your title, too because Google will cut off titles around the 65 character mark.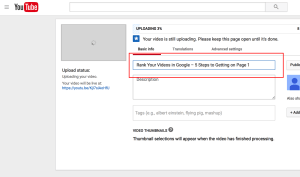 6: Craft a Purposeful Description
There's a lot of information out there on writing YouTube descriptions. But for our purpose of getting your video ranked high in Google, we're going to focus on two important factors: Your URL and your primary keyword.
The URL to your offer or your site and your primary keyword should appear at the very beginning of your description. For sure in the first 140 to 150 characters, since that's the length Google uses as a meta description.
With regard to whether your primary keyword or your URL should come first, you have two choices. You can play "the chicken or the egg" and stress yourself out deciding which to put first – or you can combine them and take care of it all at once.
So for our example where our keyword is, "rank your videos in Google", then your first line could be a URL that leads back to your site or your offer… and is also named to match your keyword.
Like this: http://www.YourSite.com/rank-your-videos-in-google
While the "Google bait" needs to be in the first 140 to 150 characters, YouTube lets you use up to 5,000 characters in your description. So even though our goal is to rank your video in Google, it's still good from a marketing perspective to use those 5,000 characters to write a compelling description and even link out to your social profiles.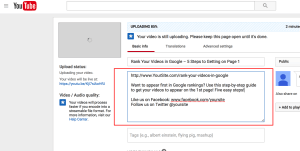 Something else to remember about links from YouTube: They're nofollow. This means you won't get any "link juice" out of them, but Google will notice and they'll not only help drive traffic to your site, but also help with  indexing and overall visibility.
Bonus YouTube Description Tip:
Always include "http://" in front of any URL in YouTube descriptions instead of just starting with "www." When you include the "http://", YouTube will make your URL a clickable link that not only gets indexed by Google, but makes it easier for viewers to visit your site or offer.
Second Bonus YouTube Description Tip:
Google uses something called latent semantic indexing in its ranking system. In this process, Google gives more weight to "main themes" of content instead of the density of a particular keyword.
What this means to you is that if you jam your content (in this case your video description) full of repeated instances of one particular keyword, you won't score as high and could potentially even get penalized for over-optimization.
Instead, in your description, use your main keyword phrase, but also work in several other keywords around the same theme. So while your main phrase might be "rank your videos in Google", you should also use phrases like, "Google video rank" and "YouTube rank" throughout your description to rank even higher.
7: Try These Tricky Tag Tactics
So far we've talked about working your primary keyword into the file name, video title, and description. But what about all those other keywords you found when you did your research?
They're still useful to you… and the Tags section is the place to put them.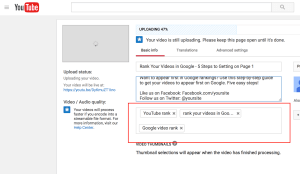 Use the other keywords and phrases that are relevant to your topic in this section – the most relevant first.
Here are a few things to keep in mind about YouTube tags…
8: All Calls to Action Are Not Created Equal
A call to action rant in an article on getting your video ranked in Google? Yep. Ok, so it's not a stealthy SEO trick, but a clear call to action will increase your clicks. And clicks lead to visits, which lead to shares… which lead to links and more shares.
So call it grass-roots if you want, but a clear, directive call to action is important.
Use a graphic overlay or an annotation (which we'll cover shortly) on the last 20 to 30 seconds of your video directing viewers to click you link. And then at the end of the video, make sure to verbally ask them to take action again. Again, every click, share, and link helps.
9: Don't Forget the Annotations
You know those text-based messages that appear over the videos you watch? Those are YouTube's annotation feature. And since they're a text field somewhere in YouTube, they're found by Google.
So use your annotations to work in relevant keywords at appropriate spots in your video. Use this sparingly. We all know how annoying too many annotations can be – and your goal is to get more views, not chase off the ones you're already getting.
10: Promote the You-Know-What Out of Your Video
As I mentioned above, every click has the potential to turn into visits, shares, links, and customers. So promotion your video will affect your Google rank more than you might expect.
Share your video on social media, with your email list, and embed it on your site. And every time you share it, say, "If you like this video, please share it with your friends and followers."
Consistent Effort
As is true in most things in life, consistently making great videos and leveraging these strategies will yield results.
Over time, you'll develop your own mix of these strategies that will work consistently for you and your audience.
While no one can guarantee you'll become the next viral phenomenon on YouTube, using these strategies consistently will quickly move you up in Google rankings and drive more traffic to your business.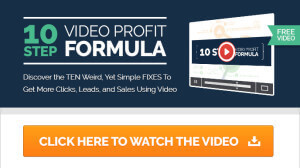 So Tell Us: What have found to be the most effective way to get your YouTube videos to page 1?