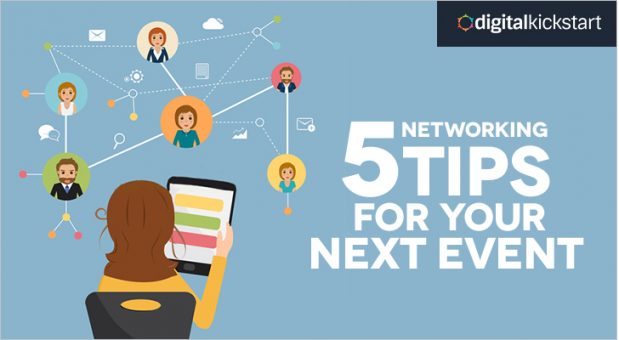 Being a businessperson or entrepreneur entails quite a bit of ingenuity, confidence, and courage to take risks. Of course, our first thoughts go to the product and sales side of things: product creation, lead generation, financial security, etc.
If you're new to the biz, then you'll find quickly that even though your new business may have most of its transactions and communications through digital means, you'll still end up attending large events to help you learn more about marketing, connect with new people, and network with other businesses.
Networking.
It's that one word that can conjure up memories of desperation and anxiety, or — as we're hoping is the case with you — it brings up feelings of excitement and confidence.
Love it or hate it, it's essential to any business or business professional.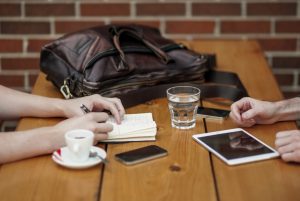 Networking is essential to any modern-day business if it is to succeed. It's not just for those who are looking for a new job; It's integral to entrepreneurs and full-bodied businesses as well. It's opens up new avenues for things like:
B2B Sales

New Contracts

New Employees

Cooperative Business Efforts
And it's the reason why every businessperson should be researching before any big event to plan on networking to the fullest extent.
Many times, people make the mistake of assuming that networking is something that just 'happens' at an event. You don't plan for it, but you know it's coming. Unfortunately, this is where mistakes are made and connections are lost.
You've probably got a few events chalked into your calendar this year, so why not plan to become an expert networker NOW.
Don't think about networking as your chance to make more sales. While that may be a natural result of the connection, it's a selfish way to approach the relationship and a sure-fire way to start off on the wrong foot.
Networking can be mutually beneficial to both parties if done correctly. Here are our five best networking tips for your next event.
Research Key Attendees
Most events you'll attend will likely have hundreds of attendees, so it's unreasonable to demand that folks know something about each and every person before the event takes place. Instead, play the game a little more efficiently and research key attendees that you're aiming to connect with.
If you're wanting to meet — and impress — certain attendees, make it imperative that you're in-the-know about all things related to those folks in particular. Here are a few key points to hone in on:
Business: What's their business, and where do their successes stand? Do they have any new products out right now? Don't just know the basics; Try to understand where they are TODAY.

Personal Connections: Scour through social profiles like LinkedIn to find any common connections you may have with that person. This way, you can establish some common ground, and it's a great conversation-starter if you know someone that they know as well.

Personal Experiences: Did you guys attend another event together? Did you see that they're a member of a certain social group online that you like too (Video games, anyone?)? Delve a little deeper than just the 'business' aspect of things so that you can share similarities in yourselves. The

similarity attraction effect

will help them gravitate more towards you if they see that you share commonalities.
Ask Questions (lots!)
You're not networking to push a product. At its core, networking is about establishing new connections, which is far before the sales aspect of any funnel anyway. Plus, sales may not even be the goal here at all!
When you're meeting new people and creating new relationships, don't make it all about you. Think about this like a first date: You want to show interest in the other party and ask lots of questions to keep them engaged and sharing. And don't just throw out random questions; Use the research you did in our first tip to ask thoughtful questions, and then listen carefully to the answers.
Remember their information for later, and you may come out of these networking connections with new ideas, new insights, and a new appreciation for other like-minded businesses.
Be a Matchmaker
Don't be part of the swarm in a networking event. Instead, turn yourself into the networking matchmaker as well. When you're able to connect others instead of just trying to make the connections for yourself, you put yourself in a more respected position in the community. Plus, you're helping out other business professionals, which only helps to strengthen your relationships with those folks too.
You'll become known in the community as the person who 'knows people', and this type of position primes you for leading the pack. When people have information or need something in particular, they know you're the one to hook up with. In turn, when you need assistance as well, you've got an arsenal of connections to work with.
Take Notes
It can be overwhelming to make so many new connections, and if you're one of those people who has a hard time with names, then this can be your downfall. Take notes as you go along the way:
Who did you meet?

What were their names?

What businesses did you connect with?

What did you talk about?

Any personal tidbits they shared that would help you remember eachother later?
These little pieces of information can help you to pick up the relationship right where you left off when you connect again down the road, whether it's on LinkedIn, at another event, or when you need to talk business later on.
Posture, Hand Shakes, and Smiles
Talking is only part of the networking connection; You have to be physically personable too. Keep an open posture with your head up, shoulders back and down, and legs uncrossed. Always open with a smile and a firm handshake to get things started.
There's nothing more off-putting from the get-go than a person who seems disinterested or nervous — both qualities you don't want to see in a business you're about to hook up with.
BONUS TIP: Prepare Your Elevator Speech
Ever get a few seconds 'break' from an event in an elevator just to get trapped with someone super important like a keynote speaker? It's nerve-wracking enough to throw anyone off their confidence pedestal, but this is the best opportunity to connect! For pete's sake, you're stuck in a tiny box with that person for a few precious seconds. Now's not the time to choke up when you're asked, "So what do you do?"
Have a short, quick, highly-engaging pitch in the back of your mind, ready to go at any moment. These pitches quickly establish who you are, what you do, and why you're worth continuing the relationship after the initial connection is over. For instance:
Hey! I'm Mark Thompson. I'm with Digital Kickstart; We create tools, software, and training for online entrepreneurs and marketers.
I may add something in there about how I loved their speech or asking them what they do as well — it all depends on the person and my prior knowledge. But you can see how I've got it boiled down to just the essentials.
You tell us: What's your best tips for networking at events?