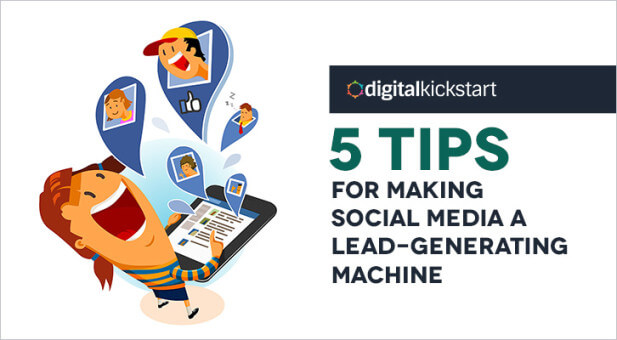 Years ago, businesses had limited means for acquiring new customers. Flashy salesmen became an integral part of advertisements as they caught the attention of prospects and tended to reel in the sales more effectively. But as technologies advanced, customers became numb to the 'hard sale' tactics. Now, social media is one of the biggest players in marketing and advertising today, and organisations to invest in lead generation here will find themselves reaping more profits.
Turning social media into a lead-generating machine requires that businesses craft a digital presence and then tap into their user networks to garner more leads. One can find any myriad of tips for turning social media into a real lead generator for their company, but we've narrowed it down to our top 5 most actionable tips to help you get on the road to lead generation today.
1. Create a Blog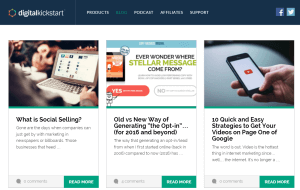 To generate leads on social media, you'll first need a way to funnel users from their respective social media platforms towards your website. One of the easiest ways to do this is through the use of a blog. We recently reviewed a how-to on creating your own blog, but consider a few of these tips as well when managing in the blogosphere.

Fundamentally, a blog is an opportunity: It's a way to connect with customers in a real-time, accessible way. But your blog needs to be part of your business, and part of your lead-gen efforts. Talk it up in e-mail newsletters, in print collateral and on packaging materials. A blog won't magically drive business without active and ongoing promotion and participation. -Ann Handley

2. Use Social Sharing Buttons
Publishing a blog and sharing it on social media is a great start to generating more leads, but if you haven't used any social sharing buttons to keep the momentum going, then you're missing out on extending your social reach. Because WordPress is one of the most used blog-hosting platforms, we'll show you how to install social sharing buttons with WordPress. Here's how to do it: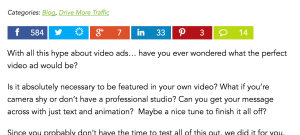 Step 1

:

Choose a Plugin → Plugins are what you need to download in order to have access to social sharing buttons, but there are hundreds of plugin hosts to choose from. One of the common social share button plugins is called GetSocial, so we'll proceed with this guide as if you were choosing their plugin.

Step 2

:

Install Plugin → You must install the plugin you choose for WordPress. You can install GetSocial's plugin

<here>

.

Step 3

:

Upload to Blog → When you're in your WordPress dashboard, you'll see in the left-hand column a heading called 'Plugin'. Click there and then select 'Add New'. You'll notice the "Upload Plugin" on the top of this view. Click it. Now just click "Choose File" and select from your computer the ZIP file you've just downloaded. Click Install Now and activate the plugin.

Step 4

:

Activate → In the left-hand menu on WordPress, you should now see your downloaded Social Sharing Plugin. Click it, and follow the prompts to activate your account.

Step 5

:

Add to Your Blog → Depending on the Plugin you chose, you'll now have a variety of options for adding social sharing buttons. Select which works best, and add it easily to your blog!
3. Build Your Network
Creating content and pushing it out on social media is only half of the equation. If you aren't doing your part and integrating yourself into the realm of social media by interacting with users, then you're not effectively building your network. Don't expect users to always come to you; You also need to proactively work to build your network. This means: 
Following new prospects on Twitter

:

Find users by doing a quick search of relevant hashtags to your business. You'll likely find a host of new B2B prospects with like-minded posts.

Conducting a Google Hangout:

Gather industry leaders in a Google Hangout to help increase your network connections. Learn how to do it

<here>

.

Sharing Peer Referrals and Customer Reviews:

For Facebook especially, it can be difficult to share items from a personal page to your professional page, but you CAN share reviews and referrals that are posted directly to your wall. This highlights what different users have said and helps to not only solidify that relationship but show others that your business is worth a second look.

C

onnecting with LinkedIn Prospects:

LinkedIn is notorious as a professional outlet on social media, so always reach out to professional prospects whom you've made contact with, and you'll have better opportunities to extend your network out through them then as well. "In the context of professional

networking

on

LinkedIn

, the

six-degrees concept

can help you boost your bottom line by connecting you with people you can convert into paying customers," writes

Dave Clarke

on the Intuit blog. 
4. Make Visual Content
This might seem hyper-focused, but just creating content doesn't do the trick anymore. Take a look at a few of these statistics: 
Researchers found that colored visuals increase people's willingness to read a piece of content by 80%. (

Source

)
When people hear information, they're likely to remember only 10% of that information three da

ys later. However, if a relevant image is paired with that same information, people retained 65% of the information three days later. (

Source

)
Content with relevant images gets 94% more views than content without relevant images. (

Source

)
In order to make your content more visual, ensure that the images you're adding to your blogs, ads, or any other piece of content are formatted to fit the screen appropriately. Check out this brilliant cheat sheet from Hubspot for sizing images appropriately on social media ⇒ HERE.
5. Host a Twitter Chat
Is your brand active on Twitter? Most companies with their hands in the social media pot are, in some form, active on Twitter. You can quickly discover whether or not a Twitter Chat (Or a Twitter Q&A Session) is appropriate for you by asking yourself these questions:
Is my target demographic active on Twitter?

Is there a demonstrable value-add to engaging in live chats?

Are comparable or competitive brands also hosting chats?



If the answer is 'yes', then it's time to host your own Twitter chat! These chats are a great way of answering questions in rapid succession and engaging users in real-time scenarios. You'll need to choose a topic (perhaps there's a product launch coming up), and provide your audience with an incentive of new knowledge to join in. Then, you simply pick a hashtag to use for your chat, and drum up interest leading up to your Twitter Chat event time. Learn more about how Twitter Chats can be used for lead gen <here>.
———-
There are literally hundreds of more ways that your company can boost lead gen on social media. Learn more from Social Media Examiner <here>. But before you get started, be sure to take a look at our top 5 tips:
Create a Blog: You need content to share on social media, and blogs are the place to start.

Use Social Sharing Buttons: Make it easy to keep the ball rolling with social sharing buttons.

Build Your Network: Get more leads when you have a larger network.

Make Visual Content: Garner more traction and attract more leads with visually-appealing content.

Host a Twitter Chat: Twitter is a great platform for creating real-time engagements with users through the use of Twitter Chats.
Tell us: What have you found to be the most effective lead generation tools when it comes to social media?