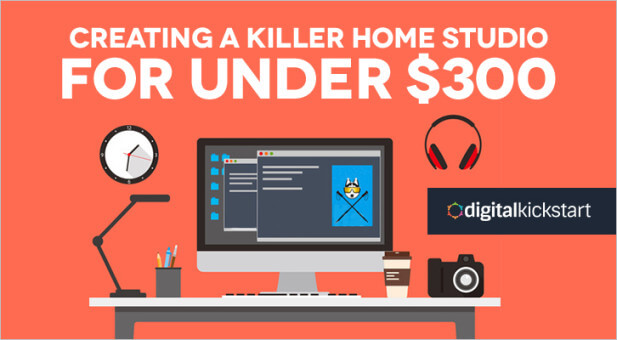 What's the best part about working from home? Is it the flexible hours? Is it the fact that you can do most of your work in your PJs? Is it the freedom to be able to spend more time with your family while still bringing home a paycheck?
There's a ton of reasons why we love doing what we do aside from the fact that we actually love our jobs (How many people can say that?!). But one of the aspects to working from home that many forget is that if you're working any sizable amount of hours from your home computer, then you'll likely need an office setup.
For business owners or internet marketers earning a full-time income through online work, you'll likely want a full home studio. An actual office studio is great for:
Increasing Productivity

Better Organization

Cleaner Video Backgrounds

Better Morale
You'll probably end up chatting with someone on Skype or hosting a video webinar at some point in your career, so your studio isn't just for you; it's likely to show up in your work videos at some point too.
Time to step back from your work for a second to create that killer home studio. We'll show you here how to do it on a budget of $300 or less. All it takes is a little ingenuity and a few great ideas to get you that sweet setup you've been dying to have!
Remember, your computer is not included in this budget – we're just talking office furnishings and supplies here.
Furniture
Budget: $200
You know the setup. Every office really needs these basic furniture items:
And that's at a minimum, but we're going for the minimalist approach here anyway. You don't need a lot of clutter in the room, so these are the primary furnishings you'll want to look at. Your desk needs enough room to comfortably fit your computer (and you can mount the monitor on the wall to cut back on desktop space usage), your keyboard, and a desk organizer for papers/writing utensils.
Perhaps the best way to go about purchasing cost-efficient, ergonimic, and aesthetically-pleasing pieces of furniture is by perusing discount sites like Overstock.com and Wayfair.com.
Many new style desks like the Martha Stewart Blair Desk integrates style and technology together by adding USB ports and charging stations into the desk itself. No more wire clutter with the internal powering stations!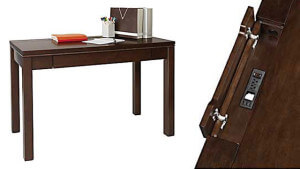 And let's not forget standing desks! It's been shown that reducing sitting times can have a dramatic impact on your health and wellness. I've even set up a treadmill at my standing desk so that I can keep moving while I'm on-the-clock.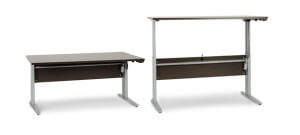 Your chair should be compact but ergonomic. Unless you're using your standing desk, you'll be sitting in this chair for several hours each day. Again, peruse the discount sites for a chair that is within budget (we're looking at $50-$100 or so here) but that has armrests and a bit of padding. Those decorative wooden chairs look great but will kill your back after a day of work.
Design
Budget: $50
The design of your home studio can make a huge difference in not only the way you feel but how productive you can be (which, we'll say, are related to one another in many ways). The goal when it comes to design is to create a beautiful space that still serves a purpose.
You can spend as much or as little here as you like, but stick to the basics to avoid cluttering up your space. Remember: Minimalism is key! There are a few aspects to look at here:
Color Scheme: Lighter colors help introduce more light into the room which is great for mood as well as for those moments where you're recording a video in your home office.

Wall Organizers: Your walls beg to be put to use, especially if you're working with a small footprint. You can get hanging file pockets and other organizers to fit cleanly on your wall. Check out the

setup

below:



Layout: Your desk and chair make up a majority of the footprint in your office, but smaller spaces can require a little more planning. You can even get a desk with wheels for a small kitchen office, or utilize a nook in your house for an easily-accessible, out-of-the-way side working space.
Backdrop and Lights
Budget: $50
Do you Skype with coworkers? Do you record webinar videos? Is there any reason whatsoever to ever use a camera for your office work?
If so, then you'll want to make sure that you've got a clean, neat setup for video purposes. This can be just the background of your office space, but the best videos typically utilize a backdrop of some sort.
Backdrops exude professionalism and can take the viewer out of your personal office and into a more visually-appealing setting. Trying to sell a $3,000 product with a view of your bookshelf in the background can be distracting, to say the least.
Neuroscience tells us that we remember what we see better than what we hear. I can't remember much of what he said, but I easily remember that random plate of food he had on a shelf in the background of his video.
When you invest in a backdrop for video, you'll probably also want to take the time to spend a little money on lights as well. You can fold up the lights with tripods and roll up your backdrop for easy, out-of-the-way storage when not in use as well, making it a must-have for any killer home office.
If you're opting for a roll-away paper backdrop, use a monochromatic roll. To separate the subject from the background, place a single light behind yourself or the subject and point it at the backdrop. Check it out in the image below.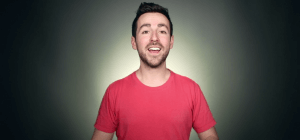 This does a good job of evoking a simple mood through color and keeping the viewer focused on the subject.
If you've already blown your budget on other areas of your office, then just be sure to use a blur filter for your background or to have a clean, tidy home office area for your background if you're foregoing the backdrop.
Stretch your dollars as far as they can go by using discount sites when possible (or making use of your memberships to certain companies like Amazon for free shipping), and by planning out your office with a minimalist approach. You don't need your desk cluttered up anyway, so plan with the basics in mind and with a beautiful design that promotes productivity.
You tell us: What does your killer home office look like? How much did you spend?