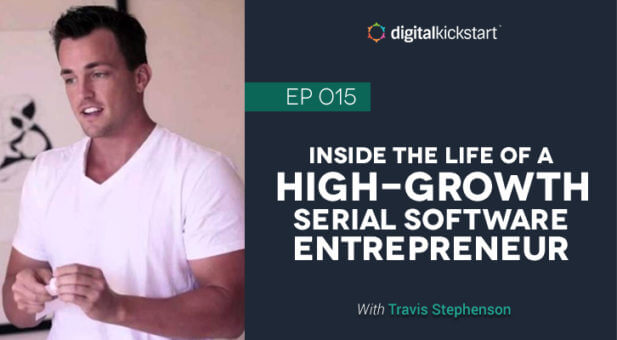 Episode Summary:
In this episode, I interview Travis Stephenson, a software Entrepreneur who leveraged being able to have the unique ability to work with legendary Internet Marketers to look over their shoulder day-in and day-out to learn the tricks of the trade.  Now Travis runs multiple high-growth software businesses, helping marketers to generate traffic, leads and customers online.
Episode Links:
Episode Transcript:
Mark Thompson:
Welcome to another edition of Off The Record. I'm your host, Mark Thompson. Today we have a special guest. His name is Travis Stevenson. He is the owner and founder of Wealthery, a software-based company that focuses on traffic, leads, and sales acquisition. Travis has been online since 2005. His first job was working for one the living legends of internet marketing and that really helped him to look over the should of someone that knew what they were doing and really replicate what someone who is successful and he could replicate it himself. Within the first thirty days of working on his own, he did over a hundred thousand dollars in earnings through helping a major product launch. Since then he has been creating powerhouse software including apps like Inter Optin, Wealthery Spy, Instamake Me, and some other closed-door applications. Travis. Thank you for stopping by.
Travis Stephenson:
Yeah. Thanks for having me, man, I'm excited.
Mark Thompson:
What we're going to be talking about today is software. Obviously you've built a software company and then I have as well, so this will be a fun conversation. Take me through your process in terms of, when you create a piece of software and you've created multiple apps along the way … What do you look for in terms of if you're going to pull the trigger and actually take all the time, money, and energy into creating a piece of software?
Travis Stephenson:
It's something that I still probably to this day, after having built no less than 10-15 different six-figure selling platforms, it's still something that you, I think you always struggle with is that proof of concept before pulling the trigger and spending money. A lot of times you can take … Some of the ideas that I've run with, I don't want to say that I've taken from someone else, but when you see someone execute a software or a program and you're like, "You know what, this is missing," like, "This really key element is missing," then you know the concept is already proven, so you can kind of take that, add on to what's been done. For the most part, nothing in the software world at this point is unique or has been something that's created from scratch. There's always, I want to say influence at least to what goes into the creation process.
Really, you try to get as much feedback as you can from the people that you trust in your sphere of influence and that's kind of where I've start for the most part. If I have an idea that I think is interesting and has potential, I go to people that I know who have sold different software applications before and people outside of the software niche itself because that's where you get real honest feedback. If they can't understand it, typically it's something that the average customer might not understand or may have difficulty understanding as well. You start to learn some of the challenges right out the gate anyways and I think that's kind of proving concept based on opinion from other people is I guess where I would say that it's time for me to pull the trigger.
Mark Thompson:
Got you and so do you kind of look for that competitive advantage? Find something where there's already a specific demand where you see people paying money for a certain type of software application and then trying to find opportunities to build something bigger and better? Is that what you're kind of trying to do?
Travis Stephenson:
I would say yeah. 30%-40%, maybe 50% of my softwares in my entire, I think it's been six, seven years that I've been building software-type programs, they came out of seeing somebody else execute something poorly and knowing that there's an opportunity. The other half, I'd say the other half that's made me more is when I start a software based on a need that I either have in my own business or a need that is clearly identifiable. Actually, going back to the very first launch that I ever did on [Clickbank 00:03:58], this was back in … it must have been 2007 maybe? 2006? It actually ended up doing over $200,000 in sales. I was obviously elated and it was just amazing but at the time, software as a service wasn't really a thing yet. It existed, but …
It was funny. My first launch ever, I had a guy from overseas. He actually built me a WordPress plug-in that made building Squeeze Pages really simple. What was hilarious about it is, it was a very poorly executed version of Lead Pages where it was, maybe call it ten templates that I would give a customer. They would install it into WordPress and then from there they could kind of, not drag and drop by any means, and that's why I mean poorly executed, but customize the entire Squeeze Page, the background, all that stuff. Then what was hilarious about that was, that lead to the next two years of what I did online because I realized there's this huge need that people have for building Squeeze Pages.
In 2006 and 2007, the best applications were WordPress themes. I think at that point there wasn't really any cloud-based stand-alone SqueezePage builders or landing page builders. There really wasn't anything solid until LeadPages, which is what? They're like three years, four years old now. It's just, you look back at some of the stuff that you start with and you're like, what an idiot. I could have, had I had the right foundation, I could have made a LeadPages or and InstaPage. Any of these things, but everything has it's purpose and so I'd say for sure the most fun and the ideas that go the farthest are the ones that I see there's a need in the market and I just start delving into who can I talk to about this project.
I think the best place for that to start for me has always been freelancing websites because even though I don't hire off of freelance websites very often, it's really nice to have the idea put on paper in front of other developers who are going to tell you, "Well, you need this and you need that and I'm good at that." That's what I think is so great. You have five conversations on Skype with a bunch of freelancers and you figure out exactly what you need somebody to build and then you can find somebody else to actually build all those pieces.
Mark Thompson:
Yeah. You say that you don't use freelance websites. How do you find your developers?
Travis Stephenson:
Originally I did. I think originally it was oDesk when I was, back in 2005 and 2006, wherever it was, I think it was there. Some word of mouth. Actually, the programmer that's been full-time for me now for the last four years? He came via word of mouth. The funny part about that is you know probably as well any anybody that when you find a really good developer, you almost never share that person's information, especially with somebody who is going to use him. The guy who shared this contact with me, I mean it was a huge mistake on his point because as a clear example, he's no longer in the industry. I don't know if it was directly because he couldn't find a good reliable programmer, but this guy was reliable, spoke English, and was a good developer. Those are three things that I think are missing from the majority of the freelance websites out there.
Mark Thompson:
Yeah. I've picked up few full time developers that, I'd had some friends in the industry or they were just trying to break into the industry, and they built a piece of software just kind of as a part time gig to make a few bucks, but they really didn't have full time work for that developer. Obviously a developer is looking for full time work and so whenever you can kind of swoop in there and be like, "Oh hey, this guy's reliable. He does good work. Okay perfect. Do you mind if I hire him?" Then naturally it could work into a full time position. That's ideal, right?
Travis Stephenson:
I think that's the perfect evolution of having an in-house guy.
Mark Thompson:
Yeah.
Travis Stephenson:
Somebody who you've already seen the work that he's done because he's done it for somebody that you know and then you can come in and be like, "Hey, you know, obviously you can't fill this time all the time. In order to keep him around at all, why don't you kind of part time him to me?" Then if he's really good and you as an entrepreneur, if you are good and you have the idea, then they do typically stay around with you more because they realize that you've got the real full time type of offering. I've had two or three guys that have been full time for me in the last four years. One guy has been exclusive full time. The other guy's have been, any time I need. They're freelance guys by default.
Actually the one most recent one was from a freelance website but the problem that I always have with freelance websites and I'm sure a lot of other people would have the same issue is, being that I'm not a developer, hence why I'm looking for one, it's hard to know what you need that developer to be able to do. When you're listing the criteria, it's like, "Okay. I need him to be able to build this, that, and the other thing," but it's like, know what kind of code does this guy have to be able to write because they do not all write in the same code and you just want to make sure that it's something that you can understand. That's why when it came to the freelance thing, I actually had my full time developer go on the freelance website. I was like, "Look. The stuff that you can't do? Type it into this chat box and make sure that you list the programmer we bring on, he needs to be able to do those things."
Mark Thompson:
Yeah.
Travis Stephenson:
It made it a lot easier.
Mark Thompson:
I guess that kind of leads me to my next question. You're not a developer, so how do you know if you're hiring the right developer or not? Does it just by sheer … hiring the person and hopefully it works out?
Travis Stephenson:
Yeah. It's been, thankfully I had a half decent run on that first product ever on 2006 because had that been a bad, potentially bad developer, I might not have made it out of that because you go all in on certain softwares and that was one of them. When I'm hiring outside of using my in-house developer now, typically what I do is I'll ask them, "Can you show me some examples of some of the stuff you've done in the past that would relate to this?"
Also, I think probably more important than I think anything else is making sure that you talk to more than just one person about the job because when you talk to the first guy, he's going to sound really great. You're going to be like, "Man, this guy can do it because he's super confident," but it's like, of course he's confident. He is trying to sell you on using his service so you have to be able to weed through some of the b.s. sometimes, which is going to be talking to four, five, six developers, which can be a laborious task, however, you will end up whittling down just by having sheer conversation saying, "This is what I want the app to do. This is how I'd like the interface to it interact." Just by doing that and then asking them questions. "What do you think qualifies you to be able to build a system like this? Have you done something like this before? Can you show me an example?" Really delving into what they've done in their past has been my savior because otherwise, I definitely would have hired … Not that I've never paid someone who did a shabby job, but I would have had a lot worse turn out, I guess, if I hadn't always had the mindset of asking questions.
I have a thousand ideas. I'm sure you're familiar with the mindset of … I can be sitting at dinner and be like, "I just had an idea. It's phenomenal. I need to talk to a developer right now to see what I can do." Sometimes the developer themselves will sort of talk you out of it because it's like, what you're talking about and … I guess an example of it would be, a visual web optimizer, right as they came out. I said, "Well, I'd really like a version of this with a couple of other tweaks that we could make to make it easier for the user to implement these split testing techniques."
I went to a … This one I knew I had to pay some money for. It was not going to be a $4,000 or $2,000 software. I went to a local software engineering company and was like, "Hey here's the idea." I sat with him for three hours and he was like, "Okay, great. Let me talk to my team and we will get back to you in a couple of days." When they got back to me, they were like, "Okay, so we thing we could do all of this and we could put it out on market and it's going to be $150,000." I was like, "You guys realize my budget is maybe $100,000," and I'm like, "We're not even in the same stratosphere." What's funny is thankfully I didn't do that application because right out the gate, I was like, "This isn't right for me." If it involves that level of cost and integration and all this other stuff, it's like, I wasn't ready for that going in. I just wanted an app that was going to be a little bit more on the simple side. You learn as you go, I think, for sure what's going to work and what has more validity than the next. You keep moving on.
Mark Thompson:
Yeah. One of the questions that I always ask developers that I'm working with is, "What are the cons to building this app?" "Is it that it's going to take too much development time?" "Is it's going to be too much to maintain the application?" These are all things that at lot of people don't think about, so my next question is … Whenever we've created another piece of software, we always get feature happy. We're always looking for new features to add to a product and I've seen so many people that do the same thing or just like, they're never satisfied with the number of features that a product has. Before they know it, they've spent three, four, five times what their budget was. How do you determine which features are going to be put in at least for the initial release of your app?
Travis Stephenson:
This is actually another question that … I've had to aggressively focus on this exact concept in my last four or five products because the bigger your idea gets, the more applications it's going to have. What we ended up doing on this last project … I actually have a software that's coming out soon that is much bigger than anything I've ever done before. I'm actually working with a firm that's based in the US that builds mostly government software. I knew this was a bigger idea, bigger concept than the other stuff that I've done, but … Recently we did Inner Optin. When Inner Optin was coming out, I said, "Okay. Here's what I want it to do," and we got it there and I was like, "This is not what I wanted it to do." It did what I had told the developer that I wanted it to, but it just didn't do it the way that I thought it would. Then it did turn into this feature-happy development process of, "Okay, well now this has to change entirely and this has to change."
I think that happens especially if you're working with a new developer who kind of can't … Once you work with a guy for a year or two projects even, one to two projects, they kind of get a gist of how you're having the conversation, what you want to achieve. It's that level of unfamiliarity with a developer and him with you as well that can sometimes lead to that feature confusion. Inner Optin, we had a … My developer is a great, what would be called, a back-end developer. He builds the guts of everything but he's incredibly poor at front-end, which is where most people judge you. They'll judge you based on the performance of the app, but when they log in, if it doesn't look a certain way, especially now, they're instantly less impressed and like, "I don't know if this is worth the money."
[inaudible 00:16:00] crazy good, so we needed somebody to do the front-end stuff. It ended up taking a wild turn because again, programming languages didn't match up and this guy wanted to write code one way and that's one thing I've learned about developers. They typically do not get along. It's like putting [Emerald Egos 00:16:16] and another 5-star Italian chef in the same kitchen and saying, "Okay, you guys go ahead and make your food." They're going to but heads. Two chefs in the same kitchen? It just doesn't work.
The new software, what was great, and this is a layout that I would promote anyone to use, is, I think he called it Agile Building. What it basically is, think of your project as a module-based project and the description that I was just talking about initially today that comes to mind is when you're thinking about your software project, most people think of the software as a house. They're like, "Well, at the end of the day I want this house," and it's like, "That's a great idea," but the problem is especially when you're dealing with developers is, they don't see the same house that you do. Nine out of ten times, they don't see the same house and they also don't build houses the same way you as a visualizer. They don't build houses the same way that you visualize them.
What we've done with this new team that I'm working on, is we are building it based on modules. Now that same idea of the house, I told them, "Here's the house that I want, but what I want you to do is, first I want you to build the foundation and the bathroom. I don't want the whole house foundation. I just want the bathroom foundation and the first bathroom. I want that bathroom to work. I want to be able to go in there and wash my hands and I want the decorations to be done. I want the bathroom completely finished." Then, from there, I'll be able to do the living room off of that because I know where I want it to go.
When you talk to a developer in that mindset of module to module, their ability to actually deliver on what you're asking them for exponentially increases because now it's not like, "Here's this grand idea that I want," that they have no concept of understanding. Instead it's like, "Build me this bathroom. I want the bathroom to do this. X Y and Z," and they almost now, the flip side nine out of ten will build you that exact bathroom because most of them can conceptualize that one basic concept. From there, I would say as an engineer … I don't know what your programming background is, but I would still consider myself an engineer or developer because it's our idea that ends up hitting the market. I would say as an engineer on the blueprint side of things, you've got to be able to go at these things in modules and say, "Okay here's the bathroom and from the bathroom, we can build a living room," and breaking it down like that can be complicated sometimes to know what features do I want first but …
Mark Thompson:
Yeah.
Travis Stephenson:
… realizing that it has to go in that way. What we're doing with our new one is actually, we're calling it sprints. What we do is we have three sprints in this new upcoming project. Each sprint is two weeks long. We have certain milestones and goals for each sprint. The first sprint and then we'll see what comes out of that and then we readjust and we develop the second sprint and then the same thing for the third. Then, at the end of the six weeks we have what we would consider a beta project, which we can actually start getting maybe twenty to a hundred people in the program use it, flesh out some issues, tell us what they'd like to see improved, and then we go back to the drawing board for another set of sprints. That's what I would say window shopping or like, the shiny object syndrome, I think is what it is. It happens to guys like us I think more so, or equally as much as it does any customer that's out there or whatever because it's like, "Man, we have this great idea," and most of the time it's not ever going to come out the way that we initially envisioned it. It makes them take months and you just have to have the time and dedication to really kind of flesh out all the issues.
Mark Thompson:
Yeah. I noticed as being an entrepreneur, we're always filled with so many ideas and it's the ideas that can sometimes kick us in the butt. It's always good to hash out, "What are the core features that are needed to make the most viable product that I can bring to the market," before you start whittling off 20, 30 different features that can [crosstalk 00:20:42]. I makes everybody unclear of what exactly the product is supposed to do. The developers are confused, and it becomes such a massive project that people lose focus and clarity on what exactly the end goal is.
Travis Stephenson:
That's what I think is so great about when you create something that there's a need for in the market. Right before you start the development process, one of the things that helps me stay organized is going and saying to myself, "I'm developing this out of a need that the market has. What is that need? What do I need to supply that issue? How can I solve that issue with," and I'm sure the phrase is very familiar with you, "What is my MVP?" What is my minimal viable product? I you can think about the project that way, which it's very, very hard to do because as an entrepreneur, the idea gets bigger the longer you wait to see it. Like, "Oh man, look at all these ideas."
Actually, the latest one that I have coming out now, I was on the call with the development team just yesterday, and I was like, "I had a phone call with one of my friends and it's so great," because I see that through time we can actually run this into this system that this thing is using and so on. I was like, "You know what? No. I've got to step back." Thankfully the guy was like, "I love the idea. It sounds great." I was like, "No I've got to step back. Let's just get the first thing done but let's put that on the table for later." I think you have to have that ability to table the big, big grandiose ideas that are going to hit you constantly and just be able to say, "We've got to stay on task." The ultimate issue is if you don't stay on task, you will end up with a six month delay, a year delay …
I've still got one application that I'm embarrassed to admit is over almost two years in development and it's just not that complicated of a system. You get on a task and you're like, "Okay, this could be a great program," and then you're like, "but I don't necessarily need it and I see a much bigger need for this thing so let's table it." Then you come back to it four months later and then something else pops up and you table it. It's just that one's been one that's been hanging over my head but it'll be a cool one once it's released, I think.
Mark Thompson:
Yeah. Are you using Jira for your project management?
Travis Stephenson:
No. We've used so many different platforms. I'll have to look into that one because I haven't even …
Mark Thompson:
Okay, well when you said sprint, I mean, that's one of their terms. They do everything in sprints too, so I thought maybe you were using it.
Travis Stephenson:
Yeah. I know sprints are also a huge term in another system that I was using. It's just one of those, I think, the bigger industry level one, so I'll have to look into that one because it's probably built better for this. I was using some that integrated into Slack and had a little sub-integration into that. For the most part, I try to do everything based off of like … I'm a bad scheduler. I'm a bad updater. These are issues as an entrepreneur, I'm sure you know. Not being able to lock down a schedule most times is, it can be a good thing and it can be a bad thing. It's good for your free time. It's bad for productivity, but I'm trying to get better at it. I do keep a pad of paper next to my desk every single day where I write things on there that I know I need to get to when I start certain things.
I have a management level on that, but a lot of the stuff just comes down to Skype conversations, Slack conversations, and just everyday, my job is check in on what's going on when I know I could save some time having a management program. We tried the Pulse, we tried Teamwork, we tried a bunch of these different systems. It's just hard to get the whole team to learn the thing, especially if you're doing freelance stuff. They're not very familiar with it already. You don't want to waste time teaching them so, it just becomes a little bit easier overtime for me to use direct conversation and be like, "Hey, what's going on with this," but an obvious downside is now if they don't update me via chat, I don't know where they're at progress wise on a certain system.
Mark Thompson:
Right.
Travis Stephenson:
It's definitely something I'm switching to and I'll have to get the name again of the one Jira, the one you had mentioned because it's definitely worth me looking into. The bigger project that we have now, they actually have their own in-house management system that they're basically going to be logging into. They're a full on team. I've been working with a CTO, CEO, so they've definitely got a good situation going there. Hopefully that'll help with their side of things.
Mark Thompson:
Yeah.
Travis Stephenson:
Management system is big.
Mark Thompson:
Yeah. Jira is, it's J-I-R-A. It's mainly focused for development so it's really nice if you're looking to build a piece of software. Let's switch gears for a little bit. I know that you, like you said you do some freelancing and you help other teams and companies and businesses build out and launch software. I know one of the things that you do, is you focus on Facebook and Facebook ads to get the word out about software, new apps. Take me through just kind of what your system is, what your philosophy is for driving traffic to webinars or [Optin 00:26:12] pages or how you're building your funnels. Talk about that for a little bit.
Travis Stephenson:
Yeah. I think probably the biggest thing that everybody has, and I've sold software to thousands of people, and one of the things that I think about a year or two years ago really hit me was, again, technology is a great thing and bad thing. Now I'm in this world where I want to build stuff that's technology based, and it's like, well, you can't build SqueezePage builders anymore because there's already a thousand of them. You can't build certain things like this because again, there's already a thousand of them. I was like, "What I've got to do is I've got to figure out what I'm good at and what I'm good at building and figure out how I'm going to get the most traffic to those things and focus on that," because again, I had shiny object syndrome of a thousand different products to build and all this other stuff. Let's just get good at something. Really good at something and launch that out.
That was when [InterOpt 00:27:05] then started because I saw this need in a market for relative newbies all the way up to experienced pros to be able to monetize the flow of traffic because I was sending traffic to certain offers and they didn't have exit intent strategies. I was like, "Man, it just bugs me that I can't put my own exit intent strategy on their page just because they're lazy. We're all missing out on money." That's when I was like, "Well wait. Maybe I can." We got to building the software that actually allows you to put Optin forms on anybody else's website and we did a really cool designer element of it. Again, I'm not a programmer or a designer so I needed all this stuff done in a way that I could use it very quickly.
The last kind of key element to InnerOptin was all the posts are meant to be social friendly. The whole is transferring over to social traffic and that's not a secret. The biggest websites on the planet are all social in the way that they're run. You have to be able to understand how that changes the mindset of your customer. You can be reaching the same people, but when they're on Facebook, their mentality is different. I got really into that. I got really deep into learning all of that and studying and figuring out what exactly makes people tick on Facebook and how do you get action on Facebook and how do you do it cheap, and just getting into the intricacies of things like scaling, all this stuff that is pretty complicated for a lot of people.
A year and a half, two years ago, I really dove in and I got pretty good at it, in sending cold traffic to my own offers and doing a lot of retargeting stuff, which apparently based on some of my customer information, retargeting is a very confusing process for a lot of people. I just find that very strange that there's not more conversation going on about retargeting to clear that up for everybody.
What we've done is we opened up a sort of a branch of Wealthery, or an arm of Wealthery where it's more like taking on one-on-ones because there's so much opportunity out there for these people to generate more sales and they're just missing it due to, not to insult anyone, but an infant-level understanding of how social traffic works.
Just recently, for instance, we took on a client who is here locally so she was able to actually come into my office and she's running a really great Shopify store. It's a really cool idea, but she has no idea how to execute it. Her only business is for the most part, before this, was word of mouth and she's got a cool idea and it's in the fitness space. She has a little following on Instagram and through one short conversation with me on information that I take for granted, she went from in May, she was working with us but not very much. She went from $3,800 in sales to in June so far, obviously it's not quite over yet, she's done over ten grand in sales. It's all because of a very basic level of marketing concept that you have to go through, both how to market on Instagram, how to market on Facebook. Even call to actions verses call to actions on Facebook, the kind of advertising that you're doing on Facebook. All of that was something that we wanted to build into InnerOpt originally so I had to really educate myself on what kind of posts are going to get the most action for the least amount of cost and how can we build that into a software that makes it easy for other people to utilize?
We built in the metadata updater for any other link, so we actually found that we can create more viral-looking content than even companies like Buzzfeed because we just take viral concepts and we can change Buzzfeed's metadata, put our own Optin form on top of it and everybody's happy. It's a pretty cool thing. Facebook, I think, when you understand it … I've had no joke, three conversations today, two via text message, one via Skype of people who are looking to work with me on the Facebook side and all of them have pretty much have said the same thing. That's just like, "I'm kicking myself with the amount of money that I've wasted on Facebook." One guy in the supplement niche paid somebody $15,000 to build them a funnel and the funnel was, I looked at it after the fact, it was very poor. They had a bad understanding of what drives traffic on Facebook. They paid $15,000 for this funnel and now, this was a month ago, he brought it to me today and was like, "We canceled our deal with that guy. He got us no income." I just saw this opportunity to help people actually, not just to run their ads, but to help them figure out what's actually going on and how to drive more business. It's sort of like a consultancy or agency-style stuff, but it worked for me so well.
I've done webinars via Facebook traffic before, which seems to be, when you don't have a following, which I've never put myself out there until recently. It's hard to get webinar traffic because people don't know who you are, so I even came up with a pretty cool method for increasing attendance rates on webinars and how to get cheaper sign ups for webinars. It's a cool little audience manipulation tactic that I use, just a bunch of stuff that really …
I don't know if you've ever read the book Outliers, but it comes down to that ten thousand hour concept. You just put the time in and you can get really good at something. It gives somebody like me the opportunity to work with people who don't have the time and rightfully so. I tell this to everybody. The girl who has the great Shopify store, I tell her, "It's not your job to be really good at Facebook. It is your job to find someone who is." You cannot be good at design and be good at all this other stuff that it takes to run a business and then also put in the time to be really good at Facebook. You can be decent at it, right? Anybody could probably be decent at it, but you're going to go through a learning curve and are you willing to accept that potential loss of two to four hundred bucks while you just figure things out while you trip over yourself for a couple of weeks putting five dollar ads out.
All that stuff I think gave me a really cool opportunity. I was like, you know, I actually really enjoy it too because you're getting people results. Some of the times it's actually relatively easy for me retargeting campaigns and what not. I consider them easy. A lot of people are like, "Man, this is mind blowing." I think Facebook is kind of fun, setting up ads, seeing what works. I'm a little nerdy that way trying to figure out what's going to be what and for me, I get a bigger kick out of seeing somebody else's ads perform than I do seeing one of my ads get above the ROI that I was hoping for just because it's like a challenge. It's a niche that I don't know anything about that I'm going in and applying principles that I think would work. Of course they're basic foundational principles for Facebook and most of the time they end up working.
Mark Thompson:
Yeah. I guess it kind of comes back to do what you're good at, right? I think that's one of the reasons why you have clients and SCO consultants have clients. If you want to go out and put in the ten thousand hours or whatever it takes to be an expert, go for it, but if you're not passionate about it and if you're not good at it, go and find someone that is. You're not a developer, I'm not a developer, so go out and find someone that can develop what you want, right?
Travis Stephenson:
Yeah. I see so many people who are just not willing to get over that hump of being like, "Oh, well I'm just going to try and figure out how to do it myself." I've heard people say that before and I'm like, "Okay. That is not a problem. I wish you the best of luck." I've never once told somebody like, "You're going to regret it," or "You're going to hate this." I always tell people, "Look. Awesome. I hope that this does so well for you and I hope you figure it out. When you do, let me know and I'd love to talk to you about it." More often than not, they come back after having spent two-hundred bucks and they're like, "I'm so far away from any objective," and then they ask me, "What do I need to do? How do I fix this? I just wasted…"
I've literally had the conversation with people who have come back after spending a thousand dollars, two-thousand dollars on Facebook ads in hopes to get X amount of leads and they find somebody who's either cheaper, more available, or willing to partner with them, and of course, sometimes I've had people that come back and be like, "Hey, this campaign did pretty well. Take a look." More often than not, I have people come back to me and they say, "Well, there goes that 15,000 bucks I paid for that consultant," or a guy who I was just talking about earlier, he paid fifteen grand for a funnel, and now he's sitting there like, "Man." Meanwhile, he's kind of a friend of mine, so I told him ahead of time. I was like, "Look. Don't spend the money with this guy." He actually sent me the detailed invoice and I was like, "Don't spend the fifteen grand on this guy. He's just not going to give you what you're looking for," because he was promoting an offer in the supplement niche trying to do it via Facebook, and he just didn't have the right idea.
Again, you can't drive traffic to supplements from Facebook, so you've really got to mask it. It's got to feel like a different idea. He led with zero content. When it's something like that, when it's a skin care product or it's a pharmaceutical of some kind, or whatever it is, a supplement, you have to lead with content. Content, you'll get super cheap clicks if it's like, "Hey, three things that you should be doing every night before you go to sleep. You won't believe #2." Those kind of headlines are going to get you a massive amount of traffic. That's actually the, that's the gap that InnerOptin bridges for most basic level customers. They don't have to ability to create that viral content but they should be able to leverage it. That's where InnerOptin really comes in. You can take other people's viral content and you can put an Optin form and it that then directs people to your affiliate offer. All the while, when you send somebody to the ten most adorable pug videos of 2016, you can also ad them to a retargeting pool on Facebook. Our system allows you to drop that retargeting pixel.
In the world that we live in now which is all based on audiences and a lot of the times based on Facebook audiences, Facebook is going to lean on you if you have an inherited audience, which is an audience that was created by a pixel activity on your website. They're going to give you that audience more often than not, they're going to give it to you cheaper than if you're going after a cold audience. They do that because of your inherited relevance. They assume that the customer knows who you are, so you know that it's going to be a better experience for them.
InnerOptin gives people the ability regardless of where they're at in their business. If you're spending five dollars a day sending people to a viral website and now you can build a list off of that. On top of it, every single click, you can now retarget to that person with something knowing that they're now more educated and you have bridged that gap. You've introduced your fan page to them in an ad format. Now they're familiar with your ad. They're familiar with your Facebook page and it's almost like that first hello when you meet somebody. That first ad typically is not going to make them your best friend. You have to work at that and hang out more, which in my analogy just means, you have to show them more ads before you can expect everybody to buy. It's with that whole concept that we've had a lot of success with several different clients just in the last month. Bigger numbers happening.
It's been really cool to experiment with some outside stuff because obviously I know that the software is a service business. I know those audiences. I've got that kind of down by this point and I'm by no means doing that on a level that some of the other guys are doing, but that's probably as a fault of my own because I enjoy doing it for other people. Now we've had some success with the fitness niche, the supplement niche, also, stuff like Warrior Forum launches and JV Zeuss stuff. It's been really exciting. It's been a fun couple of months as I experiment with that whole side of the world and I still enjoy it, which I think that for a lot of consultants they say that's probably one of the biggest things. They lose the passion for it after not long because quote on quote, "Customers can be tough to deal with." As a software guy, I'm sure you're very familiar with that as well. Customers in general can be hard to deal with. Might as well enjoy the process, which I still do.
Mark Thompson:
Yeah. How do you make money with clients? Is it on a per project basis? Is it a monthly retainer or do you say, "Oh, I love the idea. I'll work out some sort of a Revshare program with you"?
Travis Stephenson:
Yeah. It's typically it's always very fluid. It really depends on where they're coming from, what they've got going on. Everybody sort of comes to you with a fresh set of circumstances and say you come to me and you're like, "Hey, I've got a software program. It's already got a sales page. It's already got everything set up. I just want somebody to manage the ads." That's a totally different relationship than somebody who comes to me and says, "Hey. I've got this great idea. Now how do I apply this," or "I've got a blog. How can I get more blog traffic?" All of which I'm very capable of doing, so it's always different. There are some people that I work with on monthly retainers and that's because they're of the mindset that like, "Look. I don't ever want to screw with this stuff. I don't ever want to know the Facebook stuff that's going on behind the scenes. I don't care how you're getting clicks. Here's the number that makes sense to me is I want to know earnings. If you can give me that, then I'm super happy."
I have those monthly-retainer-style people and then I have other retainer level clients where they're growing their business and they want me to help them grow. Then we have one off fees. We have one-on-one consults that we have done before where bring somebody in and for me one of the biggest things … and I don't know if a lot of people do this, but I'm hyper selective when I work with somebody. If I don't think that I can actually help you, I'm not going to take it because thankfully I'm in a great situation where I don't need to do this stuff. I've done well with a lot of other things in my past and I still have a lot of stuff going that I promote on my own products, so I do this out of a need to fill some time or just to enjoy myself. I only take people on that I think I can actually do something for because I'm not going to get anything out of this business if I'm taking customers on who get zero value out of me in the end. It just isn't fun for anybody.
It's always different and I love that conversation that we get to have with customers of like, "Tell me about your business. Tell me where you're looking to go," because so often you get people who are like, "I just want to make an extra five grand a month." All the way up to, "I want to do a thousand sales a day." There's a huge gap, obviously between those people. It wouldn't be right for me to say to the guy who wants to make three grand a month, "Well okay cool, but you're going to pay me 50% of that," as opposed to the guys who are doing much better. It's always fluid and you just have to kind of see if the situation is right, but I do often … I start with a consult with somebody and we go into a working relationship.
Mark Thompson:
Very cool. My last question is for anybody that's interested in your business, your products, maybe they're interested in hiring you for some consulting. Where would they go to look you up?
Travis Stephenson:
I'd say for now as we're actually … because again, the consulting wing of this whole thing came about in the last couple of months with all the other stuff going on. I don't have a formal site yet. We're in the works of making Wealthery.com a site but I would say just email me at travis@wealthery.com so it's like the word wealth but with and E-R-Y at the end. Shoot me an email travis@wealthery.com. I'm always happy … I'm also on Facebook. Facebook.com/travisincome. Feel free to go and send me a message there. I'm super responsive on that. I'm also really big on this whole idea of how the world's transitioning over into not needing websites and you can get everything done one Facebook. I obviously fell deep into that six-foot hole because I still don't have some of my own websites out that I've been waiting to get done. Feel free to reach out to me however you can actually find me via Facebook or via email. I'd be happy to chat and introduce myself to some people.
Mark Thompson:
Awesome. We will put links in the show notes below the podcast so if you guys are interested, you can check out his products and email him as well. Thank you so much for coming on the podcast. I really appreciate you diving into your business and your insights. I love talking. I could talk [SASS 00:45:24] stuff all day long.
Travis Stephenson:
[inaudible 00:45:26]
Mark Thompson:
That's what I do day in and day out so it's always fun. Thank you so much for stopping by and anything else that you wanted to say before we sign off here?
Travis Stephenson:
No that's it. Thanks everybody for hanging out and hopefully there's a good amount of information that you could take from this. If you're on the edge about starting a software, feel free to … Really, the one piece I'd like for everybody to take would be to use your warm market that … your friends and family to run ideas and bounce ideas off of and find somebody who has done something successfully and be like, "Hey, can I bend your ear for a couple of minutes and see what you think of this?" Send some of these entrepreneurs who are already doing the software stuff, send them an email. Be like, "Hey, I've got this idea for a product. Can we maybe at some point talk about it?" If you do it enough, it's kind of the old Gary Vaynerchuk thing, if you really hit the pavement and ask a hundred different guys to evaluate your system, five to ten of them probably will.
There's definitely good outreach out there because I know there's a lot of people who are always like, "Well, I don't want to put out of money if I don't think the ideas going to work." Hash it out with somebody who probably has a better idea. Hopefully if you guys are listening and you're doing your software thing, hopefully that one's a big hit for you. You've got my email now. Feel free to shoot me an email if you have any questions. I'd love to take a look at some stuff or help you guys out.
Mark Thompson:
Awesome. Thank you so much again Travis for coming on and we'll see you guys on an upcoming episode. Take care.