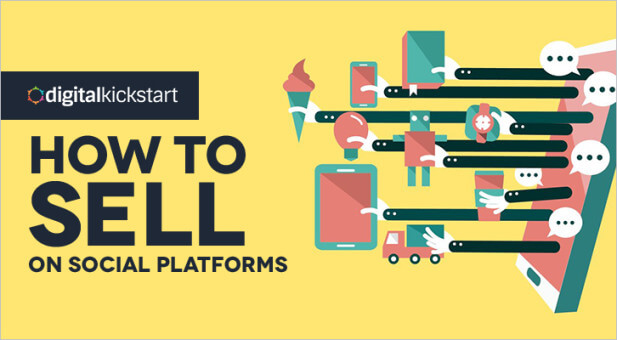 Social selling is critical to the success of modern-day marketing strategies. It integrates aspects of sales and advertising with the world of social media, connecting businesses to the nearly ¼ of people who use social media worldwide.
As of 2015, over 70% of the United States population had a social networking profile.
As we all know, social media is an all-encompassing term to describe a host of platforms where  various forms of media are used to connect users — hence the term 'social media'. But how people are social can vary drastically between platforms, and there are quite literally hundreds of platforms out there.
Luckily, there are only a few platforms in particular that businesses tend to focus on, and for good reason; Most users are found there! Some of the most popular platforms for businesses and customers include:
Facebook

Twitter

LinkedIn

Instagram
We recently blogged about some social selling tips for small business owners, but it's important to note some of the intricacies that go along with each platform industry-wide, as every marketer will need to adjust their tactics based on the platforms they're using. Here are some actionable, site-specific selling tips for each of the 4 platforms listed above:
Facebook
Many businesses use Facebook to sell and increase brand awareness. Most social media users are found here, and this was the first social network to surpass 1 billion registered accounts and currently sits at 1.55 billion monthly active users. Leverage your Facebook page to cater to these users with the following selling tips:

Create a business page, not a profile. You do this right from the get-go, and Facebook will prompt you through the process. Just follow the CTAs!

Add a custom tab using a Facebook landing page app so you can build and manage your online store. Check out how to do it here ⇒

CLICK HERE

.

Promote with your cover photo. It's super simple to upload, but make sure that you're using the right image size (851 pixels wide and 315 pixels tall). If you upload an image smaller than those dimensions, Facebook will stretch it to fit the right size, as long as it's at least 399 pixels wide and 150 pixels tall.


Always add links to products in status updates and picture captions. After you upload an image, edit the image and simply copy/paste the link to the product in the caption.


Twitter
Christy Cook, founder of Teach My, a Toronto-based company that sells learning kits for children, says, "Twitter is like a cocktail party; it's a place to build relationships, not just talk about yourself." You've only got a limited amount of characters to work with here, so keep these tips in mind to make the most of that limit while generating more leads:

Tweet at least three times a day, but keep sales Tweets to 1 in 4.

ALWAYS use an image.  

Research by Media Blog

, which analyzed the content of over 2 million tweets sent by thousands of users over the course of a month, shows that adding a photo URL to your tweet can boost retweets by an impressive 35%.

Link other user's Twitter handles where appropriate. This helps to link you up with their network and possibly gain more followers from the mention. You can do this simply by adding the '@' symbol in front of said user's handle, but make sure to add a period (.) before the '@' symbol if you're using it at the beginning of the tweet.

Use the search bar to hone in on your target audience. The search bar (at the top right of your dashboard) can be used to search locations, trending hashtags, and other users. Try the Advanced Search to focus on specific areas or locations. Then you can use the techniques from Social Quaint's blog (

click here

) to get them to follow you back.
LinkedIn
This professional networking site is great for finding new talent as well as for connecting with other businesses. LinkedIn is not particularly known for its sales, but for B2B clients, this is a perfect place to pitch your product. You have to know how to sell on this platform in order to be successful. Here are our four best tips:
Use LinkedIn's Sales Navigator. LinkedIn Sales Navigator helps sales professionals be more successful at social selling by leveraging 414M+ professional profiles. Check it out ⇒

HERE

.

Build your personal brand. Before you can sell the product, you have to sell yourself here. Create a solid LinkedIn profile that includes your developed personal brand in the industry. Don't forget to include your photo to your summary, presentation links, graphics, patents, experience, education, and volunteerism, needs to tell a story that delivers a personal brand and related perception to your target audience.

Use LinkedIn Groups.

ClickZ

says that your LinkedIn Groups should include at a minimum:

Your business school alumni

Any associations of which you are already involved (CEO Club, etc.)

Your target client industries (where you can show real thought-leadership and a track record)

Your colleagues (others who have your level of experience and are in your industry)

Peer groups (where other C-levels hang out)
Within LinkedIn, you can perform a search based on keywords and filter to find the right Group. For each Group found in your search, you have the option to view who in your network belongs to those Groups. Learn more about LinkedIn Groups from Constant Contact <

<HERE>

>.

Get referrals through a strong 1st network. Your '1st network' is the group of people you're immediately connected to. Import your contacts through Salesforce or a straight import, and then use this list like a mini-CRM tool. Then, segment/tag those in your 1st network by how they can support your LinkedIn selling efforts.
Instagram
This mobile-heavy, visual platform can be especially fun for those who have visual-friendly products. Here are our best tips for selling on Instagram:
Identify your brand aesthetic. As a visual program, you'll be posting a lot of pictures. Make sure you've discussed the visual 'voice' of your brand so that all of your images stick with a type of branding personality. This could mean nailing down details like:

Favorite filters for company use (there are a ton to choose from, so pick a few and stick with them).

Types of images (layouts, graphics, etc)

How your product is displayed (close-ups, on a model, etc)

Add relevant emojis. These pictorial additions help to break up text while quickly and easily connecting with an emoji-obsessed culture.

Use hashtags. This can't be understated with Instagram. This is how products can get discovered on Instagram, and you can see how popular your desired hashtag is by typing it in behind the '#' sign. Instagram will automatically pull up what they think you're planning to type as well as a number, which is how often that hashtag has been used. The higher the number, the more likely people are to discover it. Aim for 3-5 hashtags per post.

Use a shoppable link in your bio. Instagram doesn't allow for people to click an image and get directed to your page, so make sure to use a shoppable link from an Instagram selling tool like

Have2Have.It

in your bio.
Let's recap. There are several social platforms you're likely to find your business participating in, but each platform brings with it a network of users looking for something different. Your sales have to reflect the networks on these platforms.
Follow our quick selling tips for each platform listed above to not only connect with users more efficiently but to increase sales through the use of social media as well! 
Tell us: Do you change how you sell based on the platform you're using? What tips do you have?