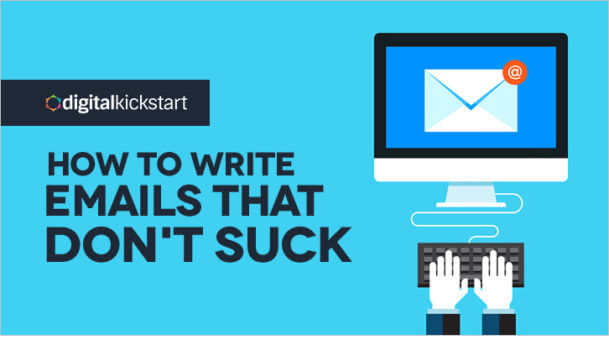 When you think of email, what's the first thing that comes to mind? Is it old-school marketing, straightforward communications, or busy-body tasks? Hopefully more of the former and less of the latter, because emails are still as important as ever in your marketing strategy.
Now think of your inbox. How many emails have you received in just this past week from businesses and companies that you were excited to open? I'm going to wager it's in the single-digit percentage, here.
The fact of the matter is that most businesses today really suck at writing emails. They're focused on getting that dollar without really connecting with the customers. The result is that more spam boxes are filling up quicker as people flag the emails they don't want. Or, customers simply start to unsubscribe.
If youR emails suck, so do your subscription lists. And it'll only get worse from there unless you make a big change.
And if you're thinking to yourself that email marketing is dead anyway, then you're missing out on a huge chunk of conversions. In fact, "research from McKinsey shows that emails are 40 times more likely to convert than Twitter or Facebook, but only if you write effective newsletter copy as part of a focused digital marketing strategy."
Now, it's one thing to tell you that your emails need to be better. It's another thing to show you how to write emails that don't suck. So here's how:
Step 1: Create an Effective Subject Line
If you're spending all of your time on the body of the email and getting to the subject line as an afterthought, then your time management is way off.
The subject line is the first impression, and it has to be precise enough, exciting enough, and enticing enough to make the viewer want to click to open the email. You have to grab their interest while giving them enough information that they know your email is of value to them. Here are a few tips to keep in mind:
Keep it Short: The largest open-rate are emails with subject lines that consist of 6-10 words. Pack a big punch with fewer words to ensure more people click through.
Consider the Problem: You can describe what's in the email, but if it doesn't adequately tap into a pertinent issue that the viewer has TODAY, then they're less likely to open it. For instance, if your email pertains to marketing services, you may use a subject line like, '5 Ways You've Missed the Mark with Marketing.'
Wordstream is a great resource when it comes to brainstorming your subject line. Here are their 9 categories to help direct you on which subject line may be best for you:
The Simple, No Nonsense Email Subject Line

– For example, "Your order is being processed"

The Funny Email Subject Line

– For example, "Do Gamers Dream of HTML5 Sheep?"

The Controversial or Shocking Email Subject Lin

e – For example, "Why Your 5-Year-Old is More Digital Than Most CMOs"

The Single Word Subject Line

– For example, "Panic"

The Numbered List Subject Line

– For example, "10 jaw-dropping drift videos on YouTube"

The Personalized Subject Line

– For example, "Aaron, Sydney burger specials just for you!"

The Question or Punctuation-Heavy Subject Line

– For example, "Final hours! Will you save 50%?"

The Scarcity Subject Line

– For example, "Ends Today! Hurry, this is your last chance to save 50% on all jeans…"

The Mysterious Subject Line

– For example, "It's all over December 25th…"
Step 2: Use Your Header Wisely
Many email templates have a header section with something like, 'Having trouble viewing this? Click here,' but you don't have to keep that text the way it is. This is valuable space, and it's right at the top of the email!
Use this prime real estate as a subheader instead, expanding on your subject line or delving quickly into what your email is primarily about. Seven to 10 words is ideal for this, and it keeps your viewers wanting more.
Step 3: Add Personality
Your email doesn't have to be all business. Make sure you're writing the same way you would speak, and make use of that space bar more often than you'd think.
When people are confronted with a 'wall of text', so to speak, they're less likely to stay interested. You aren't writing an essay here, and your viewers don't want to read one either.
And you may be using a template to start out, but you can always add personal flairs as well. For instance, add a 'PS' at the end to help underscore the human aspect to the email while adding a sense of urgency or a CTA.
Step 4: Don't Forget the Images
The same way that spacing breaks up text, so do images. And images are way more visually appealing than the text alone. Don't use the boring stock images that everyone else uses. Instead, opt for unique photos from different sites (always read the fine print for commercial use). Here are some to check out:
Creative Commons

Compfight, Dreamstime

Photo Pin

Pexels

Freeimages

Public Domain Pictures

Fotolia, Ancestry Images (old and antique prints, maps and portraits)

morgueFile (gratis if you give credit to the photographer).
Remember, you don't have to stick to still images either. Videos are growing in popularity and engagement, and you can embed a video or gif into your emails for that extra punch. Here are a few sites where you can make your own gifs:
GIFMaker.me

MakeAGIF.com

GifDeck
Bonus Tip: The Smartphone-Friendly Design: Around 67% of users open emails on their smartphone, so this step is vital if you want to reach the most people. And this step doesn't have to be that difficult. Take a look at your email provider, and just make sure that they use a responsive design.
Okay, so let's recap. Emails are here to stay. The key is writing emails that don't suck. To do this, you need to:
Consider the subject line.

Use the header wisely.

Add your personality.

Add images.

And make sure it's smartphone-friendly.
You tell us: What are your top tips for writing emails that don't suck?