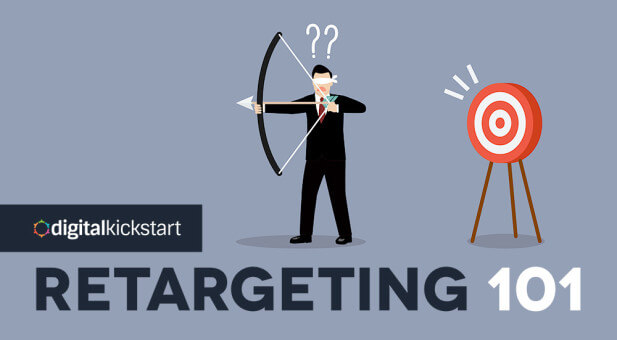 Abandoned shopping carts, unclicked links, empty opt-in boxes…there are a ton of ways that a customer might get stuck at any point in the sales funnel, failing to continue through to the actual sale. In these cases, businesses have to try to recapture that audience who – at some point – was interested in your product.
At some point in their experience, they were made an offer. This could be:
An offer to give personal information

An offer to opt-in to future communications

An offer to continue to the next screen

An offer to purchase a product

And so on…
And while some have accepted your offer, there are many more who likely haven't. These are the folks who get stuck in the sales funnel.
Your next goal? Finding what it takes to capture those clients and push them through the sales funnel.
Cue: Retargeting
Retargeting is a relatively new buzzword in the marketing field used to describe the tactics for capturing leads who have failed to proceed onward through your sales funnel. Here's how it goes.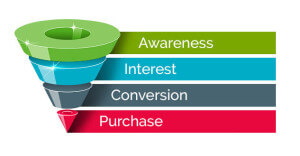 Phase 1: Awareness: In the beginning, you're targeting a wide range of audiences and demographics. Your goal is brand awareness, and you want to make the largest audience aware of your brand. Makes sense, so the next step…
Phase 2: Interest: This is where awareness begins to take hold and turn a social buyer into a customer. Here is where you've really started to get a grasp on your prospect, as they're finally interested in your product! Now it's time to work towards…
Phase 3: Conversion: Marketers heavily focus on this part of the sales funnel. Converting prospects into paying customers is what pays your bills, and this can be one of the most difficult parts of the sales funnel. It's turning interest into action, and you're going to have to step up your game to capture the sale.
Phase 4: Purchase: This is where your hard work pays off! From here, you want to ensure that the purchase is successful by being responsive to feedback and keeping communications open. The best part is that making future sales with these customers means that you can gloss over the first few phases and go straight to conversion/purchase for those customers.
So where does retargeting fit into this mix?
Think about each phase as a section of the sales funnel. Between each section is where retargeting snugly fits. When a prospect fails to move through the funnel to the next section or phase, retargeting steps in to try to recapture the lead.
The Old Way: Facebook Targeted Ads and PPC Advertising
Here's how it works: Facebook allows you to create Website Custom Audiences (Learn more ⇒ HERE), which aim to target users who have visited your site but have gotten stuck at some point in the sales funnel before conversion/purchase.
With WCAs, you can tell Facebook to push an ad to an audience of people who have hit one page, but exclude those who have proceeded to another — therefore ONLY running an ad to the people who didn't make it to the next step. That means that each stop in the sales funnel can be crafted into a retargeting ad specifically designed for that audience at that point in the funnel.
Those who have proceeded to your landing page but have not gone further can receive a different ad from, say, someone who gave their information for an opt-in or who have traveled further in your website but who have yet to make a purchase.
Here's how you do it:
Go to your ad manager and click "Audiences" in the left hand menu. From here, click  Create Audience > Custom Audience in the right hand corner.

In the pop-up box, select 'Custom Audience From Your Website'. After selecting this, Facebook will prompt you to install a pixel (or piece of code) to your website. This gets installed on your header template.

Create your retargeting audiences. This means creating a new audience by titling the retargeting audience, selecting website traffic as 'People who visit specific web pages but not others', and then inputting the URL of the page where the prospect last visited and excluding further pages down the sales funnel. In this way, you're retargeting only one stoppage point in the sales funnel and can, thus, create a different retargeting ad for the next stoppage point to more precisely advertise to each audience group.

Set up the ad by selecting 'Create Ad' next to the audience you want to target. Try to keep all of your ads similar to retain a sense of consistency.

Optimize the campaign for clicks and also bid for clicks (these audiences are usually smaller than the awareness ad campaigns and, thus, work better for PPC or bidding for clicks).
Once you have your retargeting ads set up, Facebook does the work for you. You can set these up to run for a max of 180 days, so be sure to refresh these ads after those time ranges are up to keep things pertinent and ensuring that your links are still fresh.
The New Way: Instant Buyer Traffic
Facebook WCAs sound awesome in theory, and there's certainly merit to the setup. But what if I could tell you that there was something more effective? With Instant Buyer Traffic, you get…
Better Targeting than Facebook

Cheaper Costs than PPC

50,000 Person List for $200

Audience Targeting on Sites You DON'T Own
Instant Buyer Traffic allows you to FLOOD YOUR WEBSITE with highly-targeted buyer traffic. In 2016, there will only be two types of marketers:
Those Getting FLOODS of Buyers Using This NEW Platform

Those NOT Using this New Platform and Going BROKE!
Retargeting is here to stay, so it's time to keep ahead of the pack by utilizing more effective tools for recapturing leads and turning social buyers into your customers.