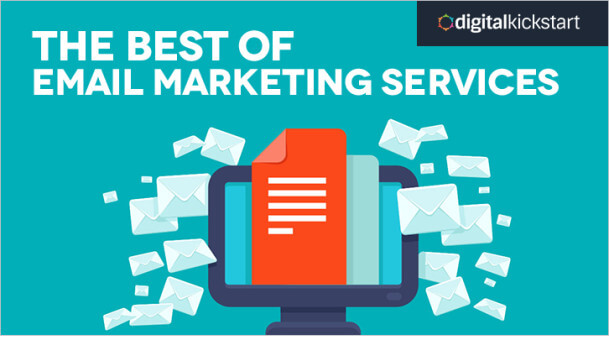 Email marketing may be getting pushed to the backburner as new ways of connecting with clients emerge, but that doesn't mean it's down for the count. In fact, email as a way of marketing is one of those essential, foundational basics to any campaign.
According to a study by ExactTarget, 77% of consumers prefer to receive permission-based marketing communications through email.
In a world of junk mail and spam communications, that statistic may surprise you. But the fact of the matter is that email allows for your clients to tend to their messages as they see fit, feel comfortable doing, or have time for. In fact, email will continue to remain successful because:
You have unlimited access at any time of day and from any location to reach your customers.

You're able to humanize yourself and your business while building better relationships.

You're able to garner more traffic on your website because of the shear increase in brand awareness through email.

You'll always have that foundational email list to fall back on in worst-case scenarios.
If you aren't sold yet, consider that…
44% of email recipients made at least one purchase last year based on a promotional email. (Convinceandconvert.com)
Email marketing strategies achieve sales. When done effectively, you can far exceed the average statistics in your email campaigns. If you haven't discovered this on your own or if you're new to the game, then it's important to note that one of the biggest influencers in your email marketing successes is the type of service/software you choose.
Okay, so looking at your marketing strategies and reflecting on email, we know the following:
Email marketing is far from dead.

The service/software you use is pivotal to your success.
Point number one is already taken care of if you've dedicated yourself to investing the time and effort it takes to utilize email marketing to the fullest. Which brings us to point number 2.
How do I pick an email marketing service?
Because email marketing is such an essential piece to the puzzle, software services can be found at every turn when you're researching the best ways to market via email. There are a few key things you're looking for when nailing down which service is best for your business:
Reliability

Reputable Services

Quick, Easy Learning Curve
Yes, email services do take a bit of learning in order to use them most effectively, so you don't want a service that's so complicated that you're investing more time than necessary to really get to the meat of the matter.
In addition to the value-based qualities, you're also looking for a service that is:
Cost-Friendly

Good Reviews

Wins Where it Counts in Comparisons
There are tons of email marketing services out there, so you'll likely be doing a lot of comparative research in order to find which ones are right for your style, your products, and your business.
These qualities can be highly subjective, which is great for businesses looking for a service that's truly catered to their niche, style, and client base.
Okay, so that's a lot of info that says a lot without really being insanely helpful for anyone who is really looking to pick a service. So, let's simplify things even further.
We've done the hard work for you. Here are our top 3 picks for the best of email marketing services.
Aweber: The Top Dog in Professional Marketing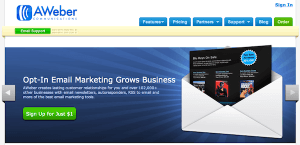 PROS:
One of the most popular services out there for email marketing.

Known for good branding and making great connections through email between businesses and customers.

Data-Driven Marketer

Reasonable Pricing

Mobile Apps for Tracking Email Marketing On-the-Go

Best Support All Around
CONS:
Higher Pricing than Competition (but not by much)

Not the easiest platform to use
Aweber is one of the biggest players in email marketing services out there, and it's known especially for it's brand marketing for professionals. They have a competitive and reasonable price but manage to run a pricetag that is marginally higher than the competition.
There are many design features that the competition simply doesn't measure up to that Aweber offers, but with that being said, it can be a little bit of a bigger learning curve if you're just getting started with Aweber and email marketing.
OUR TAKE: Aweber is great for small- to medium-sized businesses who can afford the higher pricetag and who can really reap the benefits of the added features in brand marketing that Aweber offers. It's our favorite service for affiliate marketers.
GetResponse: The Well-Rounded, 'No Fluff' Service for All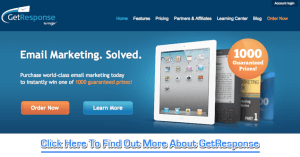 PROS:
Cheaper than most of the competition.

Action-Based Autoresponders (we'll get more into this below)

Landing Pages (for a little extra $$) and Surveys

Known for 'Ease of Use'

Mobile-Compatible with Mobile Previews

Comes with Image Stocks

Integral with many third-party platforms (like WordPress and Paypal)
CONS:
Integration not quite as good as other services

May not cater to your preferred service
So let's chat about one of the biggest differences between GetResponse and many of the competitors: action-based autoresponders. This allows for you to segment your lists based on the actions they take, and you can also use the surveys option to gauge the mood and desires of your audience to further cater to their needs and adjust accordingly.
You're also getting price cut when you use GetResponse, which can be considered marginal if you're a small- to medium-sized business. For larger businesses, this price cut can make the difference, so consider it to be a key player in your decision process when you start to reach larger lists.
OUR TAKE: We love the ease-of-use of GetResponse, and the price is hard to argue with. The added benefit of action-based autoresponders makes for a nearly unmatched contender in email marketing services. If you're able to invest more time in design and branding, you may want to consider others like Aweber, but GetResponse is really the best when it comes to no fluff, all-around great email marketing services, which makes it great for beginners.
Active Campaign: For Beginners and Experienced Marketers Alike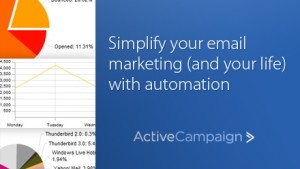 PROS:
Great learning resources for beginners

Powerful campaign management for experienced marketers

Easy setup for all campaign types

Import contacts from a variety of sources

A variety of high-volume, competitive pricing plans
CONS:
Limited selection of tools (dampening the more advanced campaign styles)

No built-in survey creation tool
Beginners and experienced marketers alike can find something useful with Active Campaign's setup. There are great tools available for setting up custom forms, and you're armed with a solid campaign management setup to help cut down on your invested time without sacrificing your results.
With Active Campaign, you can also send out action-based autoresponder messages as you could with GetResponse, and there are a ton of campaign types available for you to use to further increase your email efficacy. With a large database of learning resources, you're able to learn the ropes rather quickly while always having new info to use if you want to continue to educate yourself on the finer points of email marketing.
OUR TAKE: ActiveCampaign is a great service for a wide variety of marketers, but you stand to miss out on some of the more specified aspects like survey tools or advanced campaigns with this choice. With that being said, if those pieces aren't essential to your strategy, then this one is a great service to get the job done effectively.
At the end of the day…
There's no real winner in the race for the best email marketing service. Each service has it's pros and cons that make it better or worse for each business, so you'll have to choose based on which one fits with your needs. With that being said, these three are our top picks:
You Tell Us: Which email marketing service does your business use? What do you like/dislike about it?