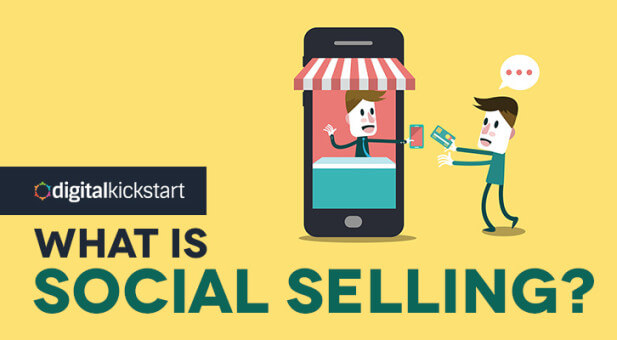 Gone are the days when companies can just get by with marketing in newspapers or billboards. Those businesses that heed the evolution of technology know that social media is an integral part of any marketing strategy.
Social selling is the phrase that describes how businesses connect with their customers and prospects via the use of social media. But social selling involves more than just marketing on social media. In fact, it's comprised of a few different facets:
Utilizing social tools like Facebook, Twitter, and LinkedIn to reach more users and sell a product.

Salespeople building a strong personal brand.

Using engaging content to create a brand story.

Fostering strong social connections with customers and businesses alike.
At the end of the day, though, the primary goal of social selling is to turn social buyers into your customers. Again, we're looking for sales, so simply creating a strong social presence may not be enough to pay the bills. You want to convert these users into paying customers — customers who will, in turn, help to grow your social presence and acquire more customers.
~Our primary goal is to turn social buyers into customers.~
Empathy is one of the key characteristics of successful social sellers, as the new world of social selling involves an outward view that focuses on customers rather than an inward view on your brand (remember the 'old days' of the hard sale?).
So you're probably thinking that this is a great theory, but how do we put it into practice? You want to build a strong social presence, but when push comes to shove, it's hard to figure out how that turns into an actionable plan. While all businesses are innately different, most can take these tips below and integrate them into their marketing plan.
Build a Strong, Personable Brand
A personable brand is one that has a unique way of connecting with the world. In the context of social selling, this means that brands must create that personality in a digital format. There are a few ways you can do this:
Create a company 'voice':

Keeping at an arm's length from your customers can help to alleviate stepping on anyone's toes, but it can also stifle your 'brand voice'. There's a balance between casual conversation and professional engagement, and using a personable tone of voice in your posts while maintaining professionalism is the key. You can figure out your 'voice' by nailing down your company's values and target market and tailoring your engagements to fit those roles.
Tell your story:

Each company has a story about where they came from and who they are. Your customers want to know that you're made of real people. Use videos and pictures to tell your brand story, and be sure to include employees as well. Check out Entrepreneur's tips for creating videos that customers will actually watch <HERE>. Customers can connect better with brands that they feel a sense of camaraderie with.
Connect and engage:

Users will continually connect with your company in a variety of ways. Whether they're writing reviews, commenting on your posts, or posting pictures on your wall, they're always opening up the door for communication. Your brand becomes more personable when they take the time to respond and converse with users, and this helps to build your brand's 'voice' in the process.

Utilize Employee Advocates
Your salespeople are the face of your brand, and while you as the company marketer may be able to create a personable brand to an extent, it's your sales team that is better able to connect with users in a more authentic way. Employees can not only extend your social reach exponentially, but customers tend to trust employee posts more than company posts, and thus it's your employees who are tasked with driving home the brand connection.
Sales reps using social media as part of their sales techniques outsell 78% of their peers –Forbes
Here are a few tips on how to spring your employee advocacy plan into action:
Create professional profiles: 

It's rare to find someone who isn't active on any social media website, but you'll want to make sure that each employee has a professional profile with which they can connect with prospects. During a training session on social media, you can help these employees create profiles and get their networks established.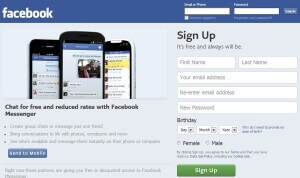 Encourage sharing and activity: 

Sometimes employees simply don't know what to say or do on social media. When your company shares content, encourage employees to share that content, and be sure to go over a few restrictions on what can and cannot be said on social media during a training session.
~Content shared by employees receives 8X more engagement than content shared by brand channels. –Social Media Today~
Once they know their limits, allow for the freedom for each employee to inject their personalities into their social media accounts, as this can help them connect with more users in their own way.
Reward:

It may seem like an afterthought, but pay attention to the analytics, and take notice of who is engaging users the most, who is sharing the most content, and who is generating the most leads. You can find analytics on your company page, but you can also use third-party programs and browser tracking codes (learn more <HERE>) to see exactly where each lead comes from. Reward employees for their efforts (remember, this isn't their primary job), and you'll help to encourage further advocacy.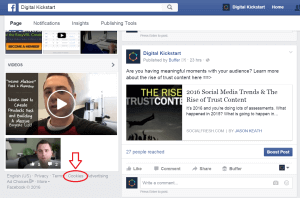 Paid Social Advertising
Social selling is about creating new connections and great content. Both of these factors can determine your reach, but there are some different ways to further extend your social reach beyond the organic limitations.
Each social media platform has its own version of paid advertising. Depending on the platform, you may have a few options ahead of you:
Paid-Per-Click:

Paid per click, or PPC, advertising means that you're paying each time a user clicks on your ad, so you're paying for engagement rather than views. While this is great in theory, it can cost a pretty penny, so use it wisely.

Paid reach:

If you're just looking to get your content out to more people's walls, then you can pay based on a reach extension. Each platform has different ways of going about this, but in general, you can extend your reach to specific target audiences based on demographics and other options as well, helping to make your dollars count.
Since Facebook is one of the largest platforms for paid advertising, let's take a closer look at the steps to do so:
Step 1:

Choose the type. Facebook offers three types of paid advertising options including campaigns, ad sets, and ads (which live within your ad sets).

Step 2:

Choose your editor. You can use the ads manager or power editor to create your ad. Consider your company size and type of ad you want to run to pick between the two. Learn more

<HERE>

.

Step 3: Choose from one of 10 objectives. This is the time to narrow down the goal of your ad campaign, and Facebook will then figure out how best to run your ad based on your objective.

Step 4:

Choose the audience. This is where it pays to know your target audience, and each different target audience will require a different ad set.

Step 5:

Set your budget. Obviously, the more money you're willing to throw into paid ads, the more people that ad is likely to reach.
Paid advertising is great for reaching users outside of your existing networks, but it can also help to boost posts that are already effective. Learn more about how to effectively use paid advertising by Contently <HERE>.
Social selling is the combination of great content and social connection. Every company can get in the game by:
Creating a strong brand voice

Using employee advocates to reach more users

Investing in paid advertising to extend your social reach
Keep a close eye on your analytics for each platform to further tailor your social media marketing program as your social selling grows and evolves.
Tell Us: What has been the biggest game-changer for your business when it comes to social selling?