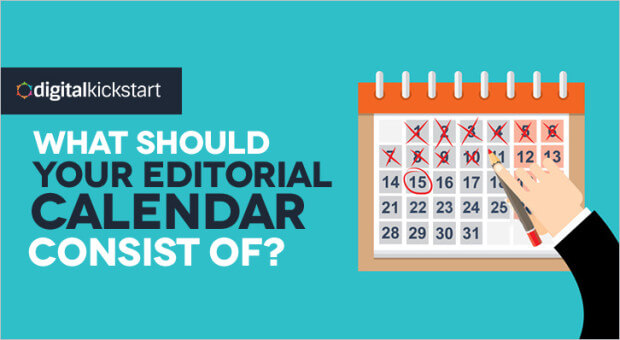 How do you manage your content schedule right now? Do you have a schedule, or are you just creating content as you see fit?
An editorial calendar seems like a great idea, and some of the most efficient and best content marketers are on board with these setups, but still many are not sold on the idea. The folks who forego an editorial calendar risk the consistency needed for a strong subscriber base, and they'll likely see those results reflected in their subscriptions. Even more so, content creation without a scheduler can just get confusing and even redundant.
One question we get often is 'How do you manage all of that content?' And our answer is always, 'We use an editorial calendar.' The obvious followup: 'Oh, how much does that cost?'
There are a ton of great editorial calendars and tools you can use out there, and you'd be surprised to know that much of it is absolutely free. There are a few calendars and programs we use, but here are some we can recommend:
Choosing which one is right for your company and content doesn't mean that you can't use the others. Some marketers will recommend boiling down your options to one so that everything is in one central location, but we have so many virtual staff members and so many different schedules that we've found it best to use a little of each in order to cater to our needs. We like using digital editorial calendars because:
They can be updated from any device.
Anyone who has access to the calendars can see the updates in real-time if they're connected to the internet.
Permissions can typically be given on tiered levels for managerial purposes.
The calendars can be adjusted for different views based on preferences and positions.
We can assign projects with due dates that include the details of the task.
It's an intuitive and visual marketing strategy that anyone can understand.
Your editorial calendar forms the framework for tasks and communications on a daily basis. Choose a calendar platform for it's ease of use and ability to tailor to your business. No business is exactly alike, but these platforms mentioned above are typically pretty good for most brands.
So you've got your free calendar management program ready to go, and you know what content you want to get started with. The next step is figuring out exactly what your calendar should consist of.
5 Essentials for Every Editorial Calendar
So maybe not every editorial calendar should have these, but if you're missing one, you should strongly reflect as to why. These are our basics when it comes to editorial calendars, and as such, we can't think of many reasons for them not to be included for everyone.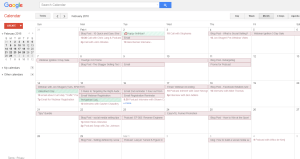 1. Interviews and Events
Your team needs to know when the important events are taking place as well as when different interviews will be conducted by your business if you're chatting up other industry leaders for podcasts or blog content.
2. Content Publishing Schedule
This is the framework for much of your scheduling for content. What blog posts are set to be scheduled and at what date? The key here is quality over quantity, and getting a set schedule can ensure that your staff is into a routine and that your subscribers know what to expect. For many calendar programs, you can make these 'recurring events' and then simply fill in the details as you come up with new topics.
3. Assigned Authors
If you have more than one person working within this calendar, then it's essential that you assign authors to different tasks. Every platform does this differently, but let's look at Google Calendars for an example. To assign the post an author, you'll invite them to the event as a guest. To do this, click on the event, hit "Edit Event," then invite that colleague to the post by typing his or her name or email address into the "Add: Guests" box, selecting "Add" when their name pops up, and hitting "Save" on the event once you're done.
4. Descriptions
It's one thing to have a content schedule, but it's another to add descriptions in order to assist publishers and give detail in a shared space. For instance, when we do podcast interviews, we use the description for the event as a place to keep questions, information about the interviewee, and other details. Multiple people can work within the description to prepare the full interview, and then we have a great framework for the interview itself when the date arrives.

5. Project Updates
Your editorial calendar doesn't have to stop at publishing dates and social media schedules. If you have larger projects, you can also assign different tasks within that project to different users along with milestones assigned at specific dates. This helps keep everyone on track during the duration of the project, giving them a framework for their job roles.
When you become familiar with the basics of your editorial calendar, then you can begin to play around with the limitless features available on every platform. Some calendars allow you to break down tasks into smaller portions that you can check off as you go, while others allow you to segment tasks into checklists that you can assign to different users.
Editorial calendars allow for you to organize your workflow, schedule your content, and getting your blogging in a routine.
Having your calendar is one thing; making sure it's packed with the right information is critical to its best use. Editorial calendars are a critical piece to our company organization, and any company that operates online in any manner can benefit from its addition as well.
Make sure your editorial calendar consists of:
Interviews and Events

Content Publishing Schedules

Assigned Authors

Descriptions

Project Updates
You tell us: Do you have an editorial calendar? What do you include in your calendar, and would you say that it's essential in your everyday operations?