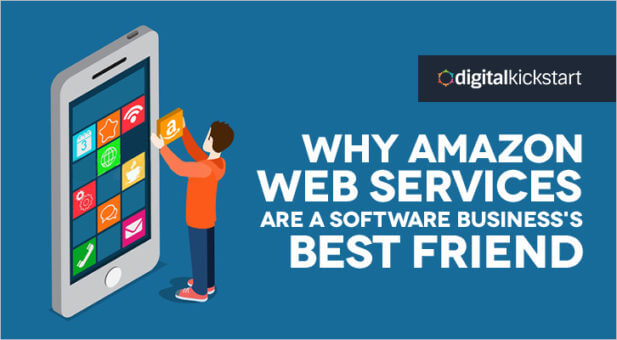 Have you heard of Amazon Web Services? If you're in the business of IT and software, then it should have already pinged on your radar.
Amazon Web Services is the fastest software business in history to grow past the billion-dollar mark. (Source)
And when you see what AWS does, you'll understand why it's been such a resounding hit in the IT field.
Amazon Web Services provides users with a multitude of IT solutions aimed at making the process of development and hosting easier. It's essentially a comprehensive cloud platform provided by web-giant Amazon.com, providing online services for websites and client applications. In fact, AWS themselves boast that they, "provide IT infrastructure services that power organizations across the internet ranging from startups to large enterprises, universities, research institutes, and even NASA."
Cloud Computing: the on-demand delivery of IT resources and applications via the Internet with pay-as-you-go pricing.
AWS sounds great, but it wasn't smooth sailing from the start. Right from the get-go, AWS faced concerns of relative security and performance issues, amongst other things. But when pitted against the overwhelming convenience that AWS provided to developers, these issues became practically null – if not overlooked.
Maybe you were in this same boat: You've heard of AWS but were put off by the rumors that it was too unwieldy, complex, or complicated for efficient use. The fact of the matter is that despite these drawbacks, AWS is still commonly used as a developer's choice for 'getting stuff done'. As such, it's preferential use has put it in high demand for software businesses nationwide.
There are a multitude of reasons that AWS has become so popular for software businesses. Forrester outlined some of the top reasons in their Global Cloud Developer Survey:
Speed: AWS provides users with one of the fastest means of getting stuff done.

Suitability: It's well-suited to users' apps.

Easy Creation: AWS makes it easy for app creation.

Cheaper: It has lower costs than on-premise programs.

Language: It has a the supported language of choice.
And these are just the top 5 answers from the survey. Other reasons include good collaboration and sharing, public and internal deployment, and JAVA and .net support as well.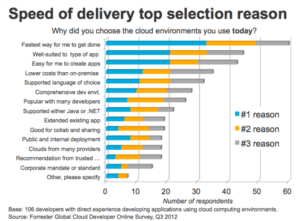 As the industry evolves, AWS has taken on a more critical workload, branching beyond just the new application testing and development tasks it once was known for. And it's not just for small companies anymore either, as big businesses are reaping the benefits of its convenience when it comes to support and organization.
So how can Amazon Services help your software business?  
We've already discussed some of the umbrella reasons like convenience, speed, and price…but what can AWS really do?
As a growing business, you're tasked with consistently creating and crafting new apps that open up new revenue streams. Traditionally, businesses have to wait on IT to build servers, test it, and start over again if it didn't work out the first time around. This is time-consuming and can eat into profit quickly.
AWS spans across a number of different performance levels, priming them as a software business's best friend.
Cloud Computing
We could go on and on about the benefits of cloud computing, but consider just a few here:
Trade capital expenses for variable expenses: No centers or servers to host, as it's all hosted 'in the cloud'.

Massive economies of scale: Hundreds of thousands of users are aggregated on the cloud.

Eliminate guessing of infrastructure capacity needs

Resources are only a click away, increasing speed and agility

Go global in minutes
This benefit doesn't necessarily speak for AWS specifically but to cloud computing as a whole, but it can't be overlooked when we're chatting about AWS and why it's really essential to all software businesses. The AWS cloud platform allows businesses to build the platform regardless of use or industry while saving time and money by reducing the need for infrastructure (as AWS provides this) – and all while providing the benefits below.
Global Infrastructure
AWS has the largest global infrastructure of any cloud service. That means that when disaster strikes, you've got the biggest structure that is both secure and reliable to get your apps and data out to everywhere your customers reside.
Speed to Market
Getting your product to market is critical in getting profits coming in faster. AWS provides services like CodeDeploy, Opsworks, Lambda, and others so that businesses can build any application in a matter of minutes. You can learn more about AWS cloud products <HERE>.
Security
It's all about having a secured environment when it comes to software, and AWS utilizes a variety of security measures to ensure that there's never a breach.
Extensive Branches
AWS's ecosystem consists of partners which can step in to help with virtually any task at hand. Need assistance with architecture? Looking to build a portfolio? AWS partners are there to help. Amazon Web Services (AWS) offers a broad set of global compute, storage, database, analytics, application, and deployment services that help organizations move faster, lower IT costs, and scale applications.
Application Hosting
If you're using the SaaS model, you've probably already found that hosting the infrastructure for your application can be costly. Learn more about application hosting with AWS <HERE>.
Case Study: Adobe
If you're still uncertain of AWS, there are a ton of case studies out there to show you why your fears are unfounded. But let's look at a software giant: Adobe.
Adobe Systems Managed Services program delivers enterprise software such as Adobe LiveCycle Forms, Adobe Connect conferencing software, and Adobe CQ5 to Fortune 100 companies, large multi-national corporations, and government agencies. Adobe uses AWS to provide multi-terabyte operating environments for its customers. By integrating its systems with the AWS Cloud, Adobe can focus on deploying and operating its own software instead of infrastructure.
You can see more of their success story <HERE>, or you can check out their numerous other customer success stories <HERE> to find a business similar to yours to see if AWS is right for you too.
You tell us: Does your software business use AWS?