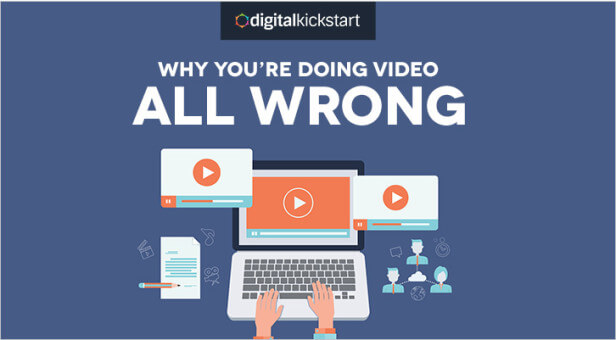 What if I told you that the way you market and publish your videos is all WRONG!  I'm talking sales videos, webinar replays, demo videos, video testimonials, lead generation videos; any type of video.
It may sound like a pretty bold statement. But hear me out…
Watch the video and read below, as I show you the glaring difference between marketers simply uploading their video to YouTube, embedding on their site and marketers that create "smart videos" using a simple software that generates more engagement, leads and sales.
Playback Resume
Want to talk about an exceptional video watching experience?  How great is it when you return back to a webpage to be greeted by something like this…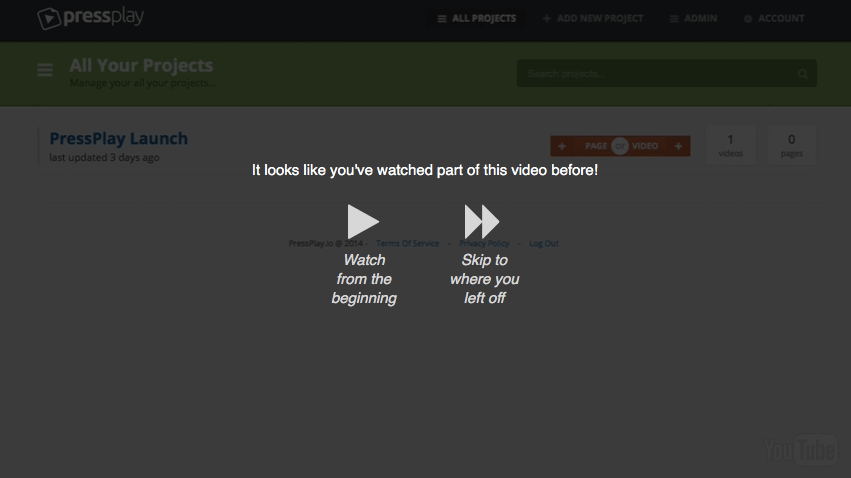 Basically, its a 1-click ability to pick up right where you left off.  Now the user doesn't have to spend valuable seconds or even minutes trying to scroll through the video figuring out where to continue watching your video.
Show/Hide Controls
How frustrating is it as a visitor to start watching a video that you have zero control over?
Well as Marketers there is a specific reason for that.  We want the visitor to actually see our marketing message.  If they have full control to fast forward, rewind, mute, pause, etc… it reduces the chances of getting your marketing message across.
However using a customizable video player, there is a way to have best of all worlds.
Let me explain…
Say you have a 60 minute webinar replay video.  You want the visitor to watch the entire webinar presentation so they can see the full value of your offer (not just fast forward to the end to see how much the price is).
So you remove controls for the first visitors exposure to that video.  After they have watched the video, you automatically turn controls back on.
This provides a compromise of marketer and visitor control.  Ensuring they see your full marketing message, but if they want to watch two, three, four times, they can skip to a specific part of the video they want to re-watch.
Lead Capture Overlay
We've proven how moving a lead capture on top of your video, instead of next to or below your video has proven to boost lead conversions exponentially.   Just this one case study turned 196 optins per day to a whopping 977 optins.
Share-Gate Overlay
Using a "Share-Gate" at the beginning, certain point of your video, or the end can turn your video viral!
One tactic we love to use, is provide great value in the beginning of the video, then tell them in order to see the second part (pre-selling how valuable the rest of the video is) they need to share the video on Facebook.
It's a win-win for both you and the visitor.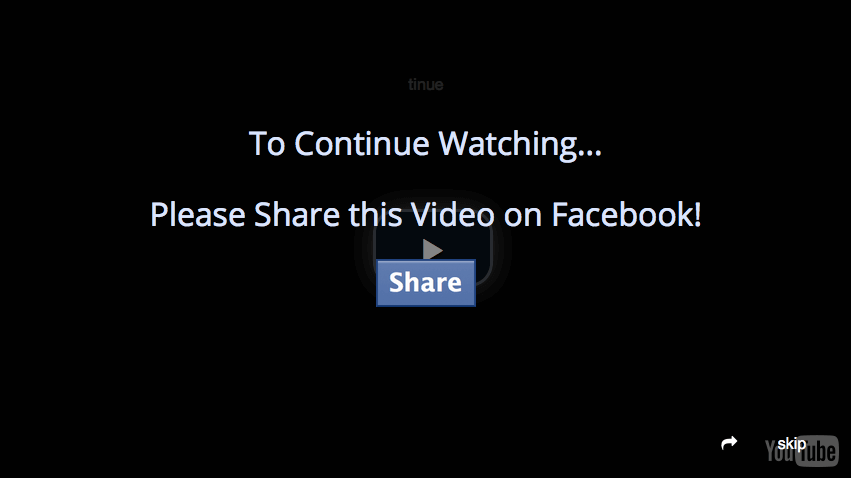 Call to Action Overlay
It makes sense.
If the visitor is engaged with your video, that is where their attention is.  So why make the extra effort to move their attention away from your video?
This is why a Call to Action directly inside of your video can dramatically improve conversions (sale, click-through, signup, etc…)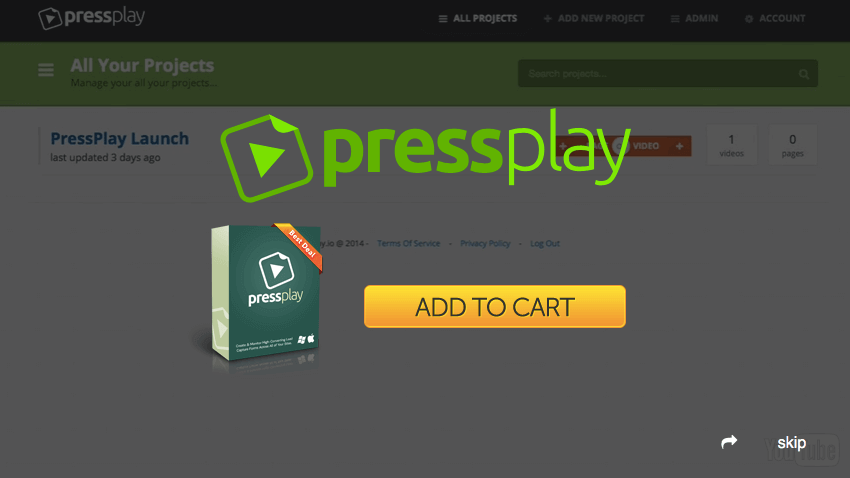 Hopefully you can see now, the eye-popping difference between a simple YouTube embed and leveraging the power of "smart" videos!
If you are not using these techniques, you are losing potential subscribers, targeted traffic and sales.
(NOTE: Want to start leveraging these proven video marketing techniques? Normally you would need to hire a programmer to develop this type of customized video player.  However, with PressPlay it has all of this functionality built-in already.  Get your copy of PressPlay here at a special blog reader discount.)