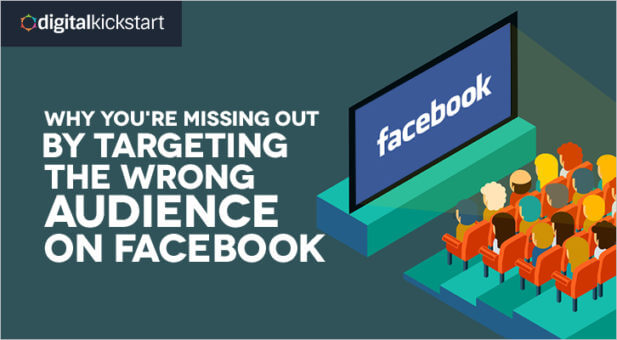 By now, you've probably already at least gotten your feet wet with Facebook advertising. By investing a little of your marketing budget in Facebook, you're able to boost your posts to far extend your social reach beyond an organic audience.
Here's the kicker:
Facebook ads are only truly as valuable as your targeting efficacy.
You can throw hundreds of dollars into Facebook ads without ever getting a return; but this doesn't have to happen! Facebook allows for businesses to invest their marketing budget effectively through ad targeting.
Instead of simply marketing to hundreds or thousands of Facebook users, you're able to market to hundreds or thousands of the right kinds of users — the ones who are most likely to turn into viable leads.
Yes, there is a wrong type of person to reach on Facebook with your ads. There's also a right type of person.
We've mentioned a scenario before in our blog post where you push out an ad that's highly engaging. It's not necessarily targeted to any specific group except, say, everyone in the English-speaking world. That's a very wide net to cast, and you'll probably get a lot of action. But the fact of the matter is that every click on your ad is a click that you pay for. And if they're just clicking because your ad is interesting or clever and not necessarily because the product is right for them, then you're paying for a lost lead.
So here's the deal — You're missing out on viable leads and potential sales every time you target the wrong audience on Facebook, and in the process, you sink your marketing budget into ineffective ads.
Your future customers are out there in Facebook, and all it takes is the right ad campaign for them to get connected to your product. When you craft the wrong ad campaign, you're missing out on those sales.
You have a split second to get someone's attention with an ad on Facebook, so let's make it count by targeting the audiences that are most likely to benefit from your product. Here's how to do it:
Step 1: Create Your Custom Audience
A Custom Audience on Facebook is a list of people your company would like to target with your ads, whose email addresses you already have or who you'll capture through traffic from your website.
Go to your Audience tab in Ads Manager.


Click Tools and then choose Audiences.



Click Create Audience in the top left.

Select Custom Audience.

Click Website Traffic.



Set your parameters, give your Custom Audience a name, and click Create Audience.
Step 2: Target Fans
When you target Facebook ads to fans, you get 700% more click throughs according the data king Webtrends. Additional data from TGB Digital shows that ads targeted at fans increases actual conversions (not just click) by as much as 400%.
We aren't saying that you don't want to engage non-fans, but the goal here is to work to build your fan list, and then you'll target your ads to the most relevant prospects – your fans – for the highest conversions. Stats don't lie!
When you're creating your campaign, follow these steps:
Go to the 'Targeting' section of ad creation

Scroll down to Connections and choose Facebook Pages > People who like your Page

Choose Advanced connection targeting to target people who are connected to other Pages, apps or events you manage.
Step 3: Retarget Those who Visited Your Website but DIDN'T Purchase
It's silly to continue to target paying customers with ads directed at generating new leads. Instead, we want to still target website visitors while excluding those who purchased. There are two ways to do this:
Target those who made it to your site but not to the 'thank you' page.

Create a custom audience of those who have made a purchase, and then exclude that group from your targeting.
Both of these methods get the job done when it comes to retargeting, helping to save you ad spend while keeping ads most relevant to the audiences who stand to gain the most. Learn more on how to achieve these two methods with Social Media Examiner's walkthrough <<HERE>>.
Step 4: Save Target Groups
Cut out some time as you keep up with Facebook ads by saving your target groups for future use. That way, the next time you make a Facebook ad, you can quickly load up your perfected target list from before to use with your new ad.
To do this, head over to Power Editor and navigate to the ad set that contained the demographic you want to save. Click the Save Audience button. After you upload changes, you can change the target group name if it's the same as your ad set in Power Editor or Ads Manager. From  here, you can now either create an ad from that audience in the Facebook Ads Manager or specify that group in your targeting in Power Editor.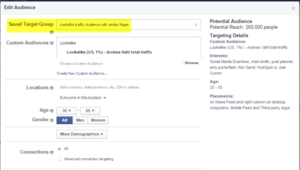 Bonus Tips
There's a lot more that can be said about target audiences, as there are a ton of options when it comes to how you display your ads and who you display them to. Here are a few additional tips to keep in mind:
Display your ads to people who haven't seen your ad that day. Instead of beating the dead horse, so to speak, ensure that you aren't nagging the same folks over and over again by restricting how many times a Facebook user will see your ad with the Daily Unique Reach bidding method. You can select this method from either the Facebook Ads Manager or Power Editor.

Display ads based on the times your target audience is online. Regardless of what time zone your audience is in, you can specify which hours of the day your ads run when you select Lifetime Budget in the Ad Set area, available either in Power Editor or in the Ads Manager.

Show ads to those nearby. You can use a local awareness ad in the Facebook Ads Manager or target folks who are on a phone within a certain radius, regardless of whether they live here or are just passing through (great for restaurants, gas stations, and other types of convenience items!).
You tell us: Do you use targeted ads? What parameters have been the most useful for you?